Tournament Summary
Konjuh, Garin Win ITF Eddie Herr Titles; Douglas, Norris Give US Girls Championships in 12s and 16s
by
Colette Lewis
, 7 December 2012
At the end of a week of flawless tennis weather at the Eddie Herr International Tennis Championships at the IMG Bollettieri Academy in Bradenton, Fla., eight players from seven countries took home not just the winners' trophies, but the knowledge that they can compete with and beat the world's best.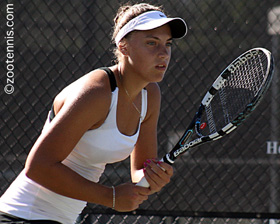 The United States was the only country to collect more than one singles championship, with
Ellie Douglas
winning the girls 12s title and
Marie Norris
claiming the girls 16s title.
In the Grade 1 ITF, played on green clay for the second year, Ana Konjuh of Croatia and Christian Garin of Chile snared titles in contrasting fashion.
Konjuh, the No. 7 seed, defeated No. 16 seed Barbara Haas of Austria 6-1, 6-1 in under an hour, while No. 8 seed Garin overcame a 6-0, 4-1 deficit to down No. 6 seed Laslo Djere of Serbia 0-6, 6-4, 7-5, in a match filled with momentum swings.
Konjuh, who will turn 15 later this month, began her tournament by dropping her first set to wild card Jessica Ho of the United States 6-0, but as she progressed through the draw, her confidence grew, especially after her 3-6, 6-3, 6-4 semifinal win over No. 2 seed Katerina Siniakova of the Czech Republic.
Against Haas, who had beaten No. 1 seed Taylor Townsend in the third round and No. 5 seed Belinda Bencic in the semifinals, Konjuh showed no sign of nerves, swinging freely and controlling points with her power, while also using well-executed drop shots to keep Haas off balance.
"I really respect her, she's a really good player, but today, she was a bit tired," said Konjuh, who was competing in her third Grade 1 final. "Today I was just better than her. I was very aggressive, especially in the start of the match, so I am just happy to be here and to play the best I can."
"I was a little bit tired already," Haas confirmed. "She played really solid and really hit strong winners, so I have to congratulate her."
Garin looked down and out against Djere in the boys final, but the 16-year-old Chilean went from that 6-0, 4-1 deficit to a 4-0 lead in the third set, winning nine consecutive games.
It was then the 17-year-old Serbian's turn to seize the momentum, taking five straight games and a 5-4 lead in the final set, with Garin failing to win a point when serving at 4-1 and 4-3.
Garin finally won a big point serving at 4-5. At 15-30, Garin was in danger of facing match points when he came up with a scrambling forehand half-volley flick winner for 30-all, and two Djere errors later Garin was back in the match. A game later, he was serving for it, and two more unforced errors from Djere left Garin with two match points. Djere's backhand forced an error from Garin to save one, but a good first serve ended the drama.
"In the first set I was waiting for the error," said Garin, who often uses his doubles partner
Nicolas Jarry
as an interpreter. "He was playing very good. I was going to run and run for every single ball, and after all, it worked."
Garin said he was guilty of looking ahead when he took a 4-0 lead in the final set.
"I was a little bit nervous for winning," said the 16-year-old, who is the first Chilean to win the Eddie Herr 18s since his idol Marcelo Rios in 1993. "I thought of what was going to happen, not of my game. This is what gives you more experience."
For Djere, the disappointment of coming all the way back to 4-4 in the final set only to lose it was especially painful.
"It felt good to come back, but maybe I am more disappointed to lose this way," said the 17-year-old right-hander. "I had my chances in the third set, but I lost."
Garin teamed with Nicolas Jarry of the US to take the boys doubles title over another unseeded team, Mazen Osama of Egypt and Skander Mansouri of Tunisia, 4-6, 6-2, 10-5. Garin and Jarry won the previous week's Grade 1 Yucatan Cup, and in their first time playing together last month, they made the semifinals of a Futures in Chile.
Jarry, who is the grandson of the great Chilean player Jaime Fillol, attributes their immediate success as a doubles team to their friendship.
"Because we're friends, and we like to hang around, say bad things to each other, we laugh," said Jarry, whose mother was born in California. "Our games are different, so I think it's complementary."
The girls doubles title went to Haas and Siniakova, the No. 3 seeds, who dominated two-time junior slam winners Gabby Andrews and Townsend of the United States 6-3, 6-1 in the final.