Who's Hot?
Prince Hot 100 List - December '12
by Amelia Thomas, 17 December 2012
December is a busy month, and junior players have an even more hectic schedule than most. Many players still make time for their game, and what better way to celebrate a victory than with holiday cheer? We take a look at some of those players with the Prince Hot 100.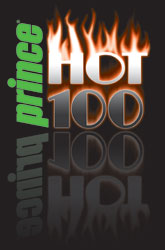 The Prince Hot 100 lists are published each month, and the December Hot 100 lists feature the one hundred boys and girls who most improved their ranking during the month of November. You can find out more about the Prince Hot 100 - and how the lists are calculated - by reading here.
The latest lists, published earlier this week, are now available:
We checked in with a few of these top performers...
Roundup
Emily Metcalf (Jonesboro, Ark.)
Four-star sophomore Emily Metcalf hasn't had some of the resources many players of her level have. There are no tennis academy options in Northeast Arkansas, so she and her family have had to be creative in her training. "I made the decision to stay in public school to try to keep some balance between tennis, education, family and social life," Metcalf said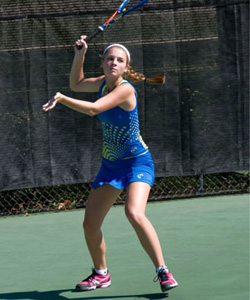 Nevertheless, Metcalf has made this arrangement work for her game. She practices with her coach, Alex Rivas of the
Trim Gym/Three Oaks Racquet Club
, about four days a week and plays practice matches as often as possible. "Although our local tennis community is not large, they have been supportive in practicing with me," Metcalf said.
Recently, Metcalf and Rivas have been working on improving Metcalf's serve. "We are working hard to get it to where we think it needs to be, and it is improving," Metcalf said. "We are also working on my backhand down the line, which is my favorite shot. That has improved tremendously in the past few months."
Metcalf's work has proved effective, and her recent success started a few months back at the USTA Southern Designated Jr. Cup in Chattanooga. "This year, we had a great group of players and two great coaches," she said. "This atmosphere gave me the confidence to compete like I should."
In October, Metcalf reached the Overall State High School Singles Finals. "That match continued my confidence but also provided learning experience," Metcalf said.
Metcalf carried this improvement into November, when she reached the finals of the Bullfrog USTA Southern Designated and won the Fall Southern Closed Championships.
Metcalf demonstrated her recent work in a match against Madeline Rolph in the semifinals of the latter tournament. "This was a tough match both mentally and physically," Metcalf said. "It was my first three-set match in quite a while, and all three sets were close." Metcalf won the first set but dropped the second. "However, being able to come back and win the third set for the match gave me the confidence to go win the finals match."
Metcalf's parents, Gene and Kim Metcalf, have high hopes for their daughter's game based on her recent success. "We think [her success] is a combination of both focus and confidence," they said. "Emily has shown periods of elevated play for the last six months, but it has been about a set at a time. Now she is showing the confidence and ability to focus for the entire match and sustain that higher level of play."