Commitment Profile
Paladin Pride: Karlee Bryde Signs with Furman
by
Ali Jones
, 24 January 2013
For four-star Karlee Bryde, tennis has been means of self-discovery and of strengthening family ties. Over a decade after she began playing tennis, the sport once again offered up another opportunity - a scholarship to Furman University.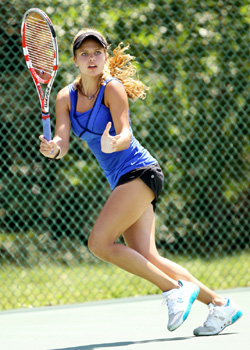 After a college search that began during her junior year, Bryde signed her National Letter of Intent in November, an early commitment to Head Coach Debbie Southern's Paladins.
"I love Karlee's energy when she competes," Coach Southern said. "She loves to play and is eager to improve. Karlee is a great athlete and her game will only get better in college. I believe Karlee will contribute to our team in many ways on and off the court."
Bryde knew she wanted to stay near her Georgia home and narrowed her choices to Furman and Samford, but Furman got the slight edge when she played the April 2012 Bullfrog and tested the courts there herself. She didn't realize at the time how pivotal that weekend would be to her future.
"It was a key tournament in the college recruiting process," she said. "After going deep in the draw I faced one of the top southern players and I pulled out a win in the third. I continued to play well throughout the tournament, felt confident with my results and was glad that a lot of coaches were there to watch me."
During her official visit to Furman, she saw firsthand how the team and its coach interact and that made her decision easier.
"The team gets along really well and Coach Southern does a lot to make that happen," she observed. "She works hard to improve all her players on and off the court. She shows commitment and dedication to the team. I can tell that she can help me with the things that can make me a better player."
Bryde's visit has also assured her that she's going to love being a part of Furman, where she plans to major in business.
"I'm excited to be independent, to have new friendships," she said. "There will be lots of new experiences. It's going to be a big change, but for the best."