Who's Hot?
Prince Hot 100 List - January '13
by Amelia Thomas, 14 January 2013
The holidays can prove difficult for everyone as schedules get busier and busier. But many junior tennis players still made time for their games. We catch up with a few of those athletes - in the Prince Hot 100.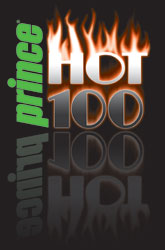 The Prince Hot 100 lists are published each month, and the January Hot 100 lists feature the one hundred boys and girls who most improved their ranking during the month of December. You can find out more about the Prince Hot 100 - and how the lists are calculated - by reading here.
The latest lists, published earlier this week, are now available:
We checked in with a few of these top performers...
Roundup
Alex Samets (Ocean, N.J.)
Three-star freshman Alex Samets credits his entry into the game of tennis to his parents' history with the sport. "Both of my parents, [Andre and Victoria Samets], played tennis throughout their lives and are teaching professionals," Samets said. "My dad used to play professional on the ATP for a short amount of time towards the end of his career, but he did very well in the Soviet Union tennis wise. My mom was a top junior when she was younger, and that is how they met."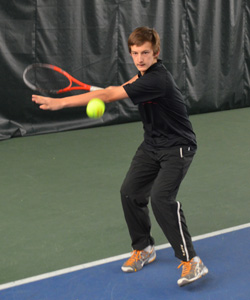 Samets's parents pushed him to participate in tennis, although he jokes that he resisted at a young age. "My dad would drive me to any court and try to make me hit the ball," Samets said. "I did not like it one bit when I was younger; I would fake being sick, tell them I had homework, do anything not to go onto any court. Now, I understand and appreciate what my dad did for me when I was younger."
Now, tennis is Samets's greatest passion, and he even committed to switching schools for his game. He recently converted his education to the distance learning school, the Laurel Springs School. "Since the school offered a more flexible schedule, I was able to train and practice more," Samets said.
The new school allowed Samets to create an individual tennis schedule, something that he had been unable to do in the past. "I think part of the reason I was unable to excel beforehand is because I never had an exact schedule," he said. "Now with a more opened up schedule, I know what I am doing and when." His schedule consists of morning drills, physical training, and then an evening practice later on.
This change has certainly benefitted Samets's tennis game. He won three tournaments last month alone, the TTTC Challenger, Courtsense at Bogota Racquet Club, and the John McEnroe TA Holiday Championships. These thirteen impressive wins catapulted Samets up nearly 100 spots on the Athletic DNA Class Rankings List to his highest historical ranking on Tennis Recruiting.
Out of all his victories, Samets cites his best as a match against three-star freshman Christopher Paradis in the finals of the Courtsense tournament. This win stuck out to Samets, not because of the score or intensity of the tournament, but because of his playing history with Paradis. A few months ago, Samets lost to Paradis, 6-0; 7-5.
"I was very satisfied with this win because I showed to myself that I had improved through my hard work over the past few months, and if I could continue doing what I was doing, I might eventually get somewhere," Samets said.
Samets is currently working with his father and coach, Andrej Samets, on his ground strokes. "Right now, we are working on shortening up my back-swing on both sides of my ground strokes while keeping up my consistency, depth and heaviness on the ball when the ball begins to speed up in some of the higher level tournaments to come," Alex Samets said.
There is always a pressure for young players to look into college, but as a freshman, Samets feels it is most important to simply focus on continuing to improve. "Right now, I have not been thinking too much about colleges or any of their tennis programs. I want to concentrate and become the best I can be, then I will decide on colleges," Samets said. "Never the less, I do hope to get into a college playing tennis."