Commitment Profile
Spring Signing Week '13: Dailey Takes Unique Path to SEC
by Blair Henley, 15 April 2013
The road to a college tennis scholarship is usually paved with USTA tournaments, Tennis Recruiting "stars," and national rankings.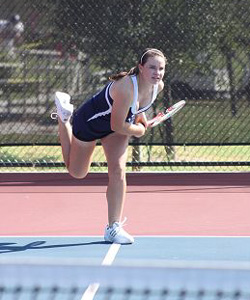 Try telling that to
University of South Carolina
signee
Caroline Dailey
.
The Sarasota native's unorthodox approach to her junior tennis career included over a year spent playing on the ITF Pro Circuit and a conspicuous absence from the events widely considered requisite steps in the college recruiting process: USTA National 18s Hard Courts and Clay Courts.
Dailey's path took some twists and turns late in the game, but she started off like any other tennis-loving little kid. In an attempt to be just like her older brother Austin, she started batting balls around in her driveway at just four years old. By the time she entered high school, her recruiting ranking sat just outside the top 10.
Given her immediate success in the 16-and-under age group, an early promotion to the 18s would have been acceptable, if not expected. But Dailey did things differently.
"I had an 18s ranking when I was 16, but my coach had me play back in 16s to learn how to win under pressure; to be the one who's expected to win, and to learn how to play with that."
While Dailey dealt with the pressure of expectation, her 18-and-under ranking fell victim to the unconventional strategy. With no 18's ranking points on record, she couldn't get into designated and sectional tournaments once she turned 17 in the fall of 2011. To make matters worse, the draws in those events were downsized to just 32 slots around that same time. But Dailey did have one WTA point to her name after previously earning a wildcard into a $25,000 event. As a result, she could easily secure qualifying spots in ITF Pro Circuit tournaments.
So, the Dailey's had a decision to make. Caroline could either start from scratch, playing local junior tournaments to build up her ranking, or she could start competing in pro events.