Special from
Scholarship For Athletes
The UC Santa Barbara women's tennis team finished the 2011-12 season with an 11-14 record. Enter head coach Simon Thibodeau, who spent nine years at Fresno State where he won seven WAC conference titles and guided the Bulldogs to five Sweet 16 appearances in the NCAA Tournament. This season, the six-time WAC Coach of the Year has the UCSB Gauchos with a winning record and an ITA ranking.
Our friends at Scholarship for Athletes sat down with Coach Thibodeau and asked him about the recruiting process and his coaching philosophy.
Questions and Answers
Scholarship for Athletes (SFA): At SFA, we try to explain to our clients that the recruiting process is like being on three year job interview; is that how you view the recruiting process?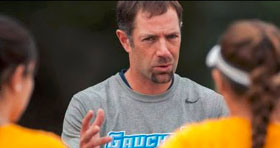 Simon Thibodeau (ST):
Yes, the recruiting process really starts when you are a sophomore in high school. As a sophomore, make sure you are aware of the core requirements for admission to the institution, and eligibility with the NCAA.
As a junior you should send your resume to the schools you are interested in, register with the NCAA Clearinghouse, pass the SAT test and continue researching different colleges. If you can, take an unofficial visit to a school you really like.
SFA: What advice do you have for the parents of high school student athletes about the recruiting process?
ST: College coaches want to know about the students more than the parents. The parents should be kept in the loop while staying in the backseat. They can ask a few questions, but they should always share them with their child. Coaches like to see students be proactive in setting up meetings, asking smart questions and making their own life decisions. This is what they will be asked to do for four years in college. Overbearing parents can be the reason why coaches decide against prospects during the recruiting process.
SFA: Assuming that they have the academics and tennis level to attend your school, when should junior players begin to contact you or send you their resume?
ST: The beginning of junior year. The recruiting process seems to start earlier each year, and the prospects are getting more knowledgeable with the college process. The earlier they start, the better.