Tournament Summary
Hance and Daniel Take 14s Easter Bowl Titles; Bellis and Kumar Earn 16s Championships
by
Colette Lewis
, 26 April 2013
Connor Hance and Jaeda Daniel both came from behind to collect USTA Spring Nationals Easter Bowl 14s gold balls, while 16s champions CiCi Bellis and Sameer Kumar posted straightforward wins in the finals, as the historic tournament's 46th year came to a close earlier this month in Rancho Mirage, Calif.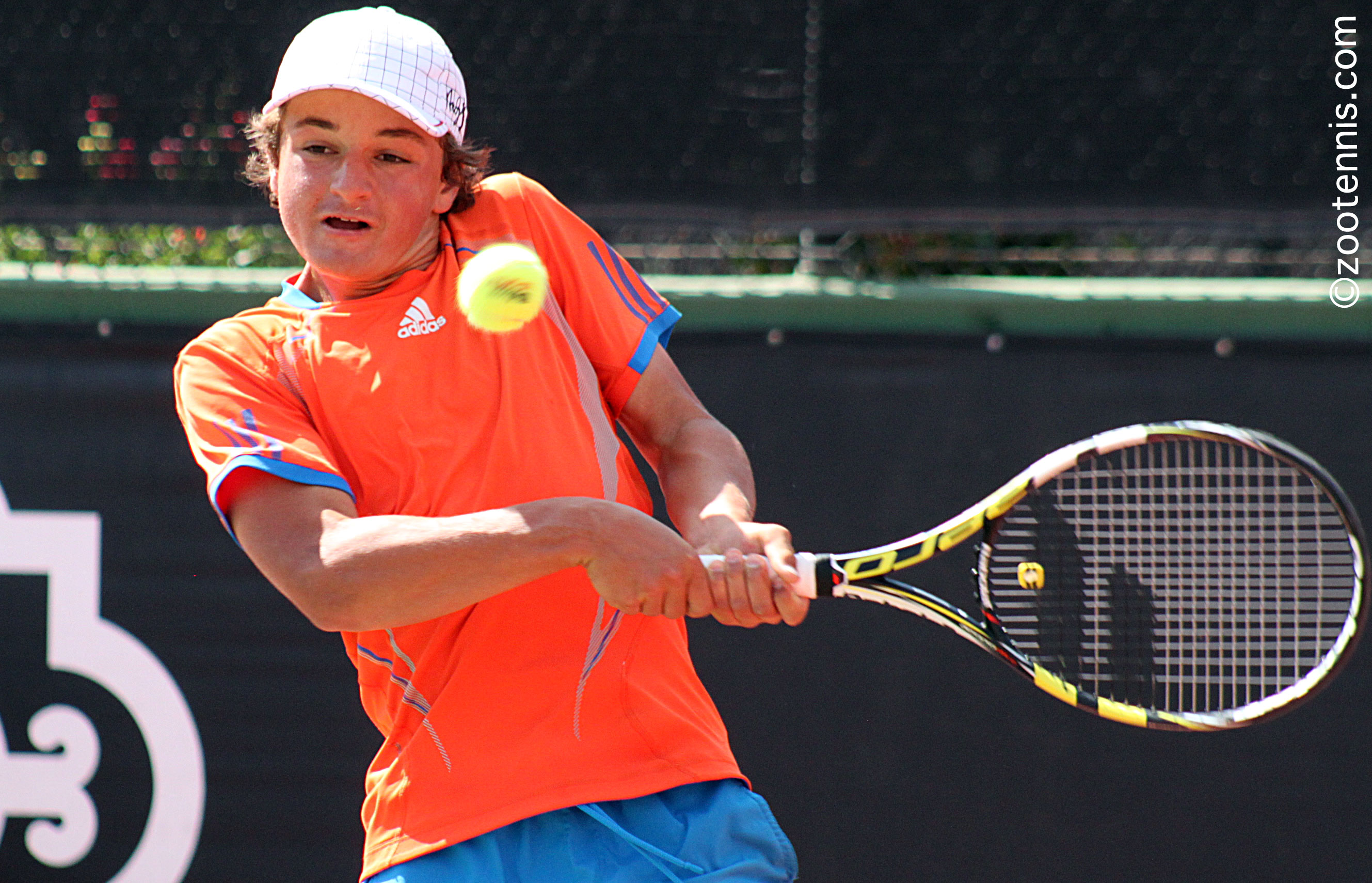 After six years at the Rancho Las Palmas resort, the Easter Bowl had a new host: the
Sunrise Country Club
, located just down Bob Hope Drive from the previous venue. With ideal weather and impressive crowds during the weekend's finals, the four champions had every reason to savor their performances.
Hance, the No. 2 seed, had the most dramatic win, saving a match point in his 4-6, 7-6(3), 6-4 victory over top seed and Winter National champion John McNally.
McNally was serving for the match at 5-4 in the second set, and at 30-all had hit one of his big forehands to force an error from Hance and set up a match point. He missed his first serve, then his second, and two forehand errors later, the score was 5-5.
"You really can't live life like that," McNally said, when asked if he had regrets about the match point. "Crap happens. I would say another word, but.... that's what my papa tells me. It's part of tennis. You're going to have matches where you come back from match points and you're going to have matches where you blow match points. It's just a part of tennis, a learning process. I did get tight, I'm not going to lie. It's match point and I got tight on that second serve."
Hance, who had never played McNally before, said it wasn't until 5-3 in the second set that he felt he had a handle on the match and a workable strategy.
"He was dictating points, running me left and right and left and right," said the 14-year-old Hance, who is famous in tennis circles for his portrayal of Andre Agassi and Steffi Graf's son in a Genworth Financial advertisement nine years ago. "At 5-3, I sort of realized he went inside in a lot on his forehands, so I just started guessing inside in every time. I got a lot more balls back then, but he was still dictating the points. I was just running for my life, pretty much, on his serve. Coming back from 5-3 gave me a lot of confidence, even though I still went down another break."
McNally served for the match a second time after breaking Hance for a 6-5 lead, but he got no closer than deuce in that game. The tiebreaker was 3-3 at the change of ends, but Hance played flawlessly in the next four points, with a big first serve and a gorgeous backhand drop volley winner to earn three set points. He converted the first with a big overhead, and approached the third set with confidence.
"I do a lot of fitness in my practices, so I'm in pretty good shape. I never cramp or anything," said Hance, who trains with his father Ken at the
South Bay Tennis Center
in Torrance, Calif. "In the third set, I kept doing what I was doing and I think he was a little more tired than I was."
Hance was down 2-0 in the third set, but won five of the next six games to go up 5-3. Down 0-40 serving at 3-5, McNally fought off four match points in an eight-deuce game, going for the sidelines and hitting them with both his forehand and his backhand.
Serving for the match, Hance double faulted on the opening point, but that was his only sign of nerves, and when he earned his fifth match point at 40-15, he stayed aggressive, hitting a forceful backhand that McNally couldn't handle to end the nearly three-hour thriller.
"Connor's just a very good player," said the 14-year-old McNally, who trains with Wil Lofgren at Queen City Racquet Club in Cincinnati, Ohio. "He mixes up his shots well and he played amazing at the net today. It was probably the best I've ever seen him volley. When I got my first serve in, he got it right back and neutralized the point. He made me go for a little too much, and I started missing my forehands, which probably cost me the match."