Tournament Summary
College Championships at the Ojai
by Rhiannon Potkey, 8 May 2013
OJAI, Calif. - About the only thing missing from the 113th Ojai Valley Tennis Tournament were strains of the Eight Clap echoing through the towering oak trees at Libbey Park.
UCLA fans had plenty of reason to cheer this year as current, future and former Bruins experienced great success in all divisions.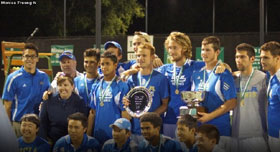 The
UCLA men
captured the Pac-12 Conference team title,
UCLA
freshman Kyle McPhillips won the Pac-12 women's individual singles title, former Bruin Noelle Hickey captured the Women's Open singles and doubles titles and future Bruins
Gage Brymer
and
Mackenzie McDonald
won the CIF Boys singles and Men's Open singles titles, respectively.
The top-ranked UCLA men exacted a measure of revenge with their 4-2 victory over rival USC in the Pac-12 team final.
The Trojans beat UCLA in the inaugural Pac-12 team championships last year before beating the Bruins again in the NCAA semifinals on their way to capturing their fourth straight NCAA championship.
But sparked by strong play from the lower half of its singles lineup, UCLA turned the tables to register its third straight victory over USC this season.
Junior Clay Thompson secured the title for UCLA with his 7-6, 6-4 victory over Jonny Wang at the No. 5 singles spot.
"It's always great to be in that position for me. I always feel very comfortable in that situation," Thompson said. "The support of my teammates behind me and the weight of knowing it's all on my shoulders is something I really enjoy."