Tournament Summary
Sanford, Oosterbaan Capture National Open Titles
by
Colette Lewis
, 15 May 2013
Unseasonably cold temperatures didn't stop Midwesterners Anna Sanford and Paul Oosterbaan from capturing the singles titles at the USTA 18s National Open at the Canepa Tennis Center in East Grand Rapids, Michigan. Sanford defeated Alexis Nelson 1-6, 6-1, 6-2, while Oosterbaan edged Tom Fawcett 6-3, 4-6, 7-6(4).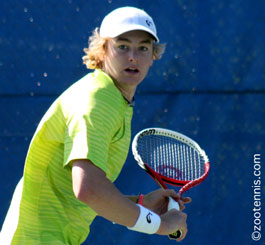 Temperatures did not reach 50 degrees for Monday morning's finals, making it feel more like March than May, but after a weekend with rain and even a few snow flakes forcing play indoors on Sunday, the bright sun Monday allowed the tournament to move back outdoors.
Oosterbaan, a No. 5 seed, had cruised through his first four matches with the loss of only ten games, but he didn't encounter a seed until the final, where he met No. 1 Thomas Fawcett. Fawcett had also taken his first four matches in straight sets, with No. 5 seed Alex Fennell giving him the most difficulty in the quarterfinals before falling 7-5, 7-6(3).
The final began on an inauspicious note, when dead spots on the court resulted in the match moving to another court after just five points were played.
After the ten-minute delay, the first five games went to the server, but two double faults by Fawcett at 2-3 helped Oosterbaan get the first break and a 4-2 lead. He was broken back immediately however, the first time the 6-foot-8-inch right-hander had been broken in the tournament. Fawcett didn't capitalize, losing his next service game at love, and Oosterbaan survived double faults on his first two set points to take the set on his third by a 6-3 score.
In the second set, Oosterbaan and Fawcett exchanged breaks in the fourth and fifth games, but both managed to hold until Oosterbaan served at 4-5. It took just a couple of errors by Oosterbaan, including a missed volley on set point, and steady play by Fawcett to send the match into a third set.
The 10-minute break between sets could have caused problems for both players given the chilly temperatures, but instead the level of play rose along with the mid-morning sun.