Who's Hot?
Prince Hot 100 List - June '13
by Amelia Thomas, 17 June 2013
School is officially out for most students, and while some enjoy lazy days, tennis players are taking advantage of the extra time to better their games. Some of the junior players who competed at a high level over the past month appear in this edition of the Prince Hot 100.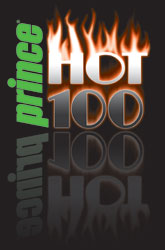 The Prince Hot 100 lists are published each month, and the June Hot 100 lists feature the one hundred boys and girls who most improved their ranking during the month of May. You can find out more about the Prince Hot 100 - and how the lists are calculated - by reading here.
The latest lists, published this past week, are now available:
We checked in with a few of these players...
Roundup
Noah Sutter (New York, N.Y.)
Three-star rising sophomore Noah Sutter makes his appearance on the Prince Hot 100 List for the second month in a row this June. He attributes his success to the special training he has completed with coaches Igal Buberman and Peter Treyz of the North Florida Tennis Academy. Sutter and his coaches recently returned from an intensive three-week training session in Jacksonville, Florida.
While in Florida, Sutter says that his mental game grew tremendously. "I truly believe that tennis is 90 percent mental and 10 percent physical," he said. "[My coaches] really helped me develop mentally. I am more focused, thoughtful on the court, and can read and understand different scenarios much better."
The New York native, who attends boarding school in Florida, certainly demonstrated his growth when he returned. His parents, John Sutter and Kathleen Kucka, noticed great changes. "[Noah] has never been more fired up," they said. "His game, focus and confidence advanced by leaps and bounds."
Sutter believes his improvements were best showcased in a match against four-star junior Eric Wagner at the Point Set Eastern Designated Closed. "I went on the court feeling confident with my game," Sutter said. "I had been serving very well in the qualifying rounds. My serve really gripped the court on the indoor hard surface. I broke early and held the rest of the first set."
He won the first set 6-4, and he kept it up in the second set, taking the match with a 6-2 win. "I competed the whole match and kept my intensity up," Sutter said. "This was my first win in a Sectional main draw, and I had to play well and compete to win it."
In addition to this win, Sutter compiled seven others last month against just two losses. Over the past few months, he has jumped nearly 100 spots on the Class Rankings List.
Academics are equally important as athletics in Sutter's life. He was recently named the best student-athlete at his school by his coaches. "This award means a lot to me. It is what I am trying to be, an athlete as well as a strong academic," Sutter said. "My dedication towards tennis is just as present in my academics. I am trying to develop into a full package for colleges."