Clay Court Championship Week
CiCi Bellis Wins Title at Girls 16s Clays
by Sonny Dearth, 25 July 2013
Special from the
Newport News (Va.) Daily Press, HRVarsity.com
Catherine "CiCi" Bellis seemed so fresh in the second set, one of her post-match comments seemed incredible.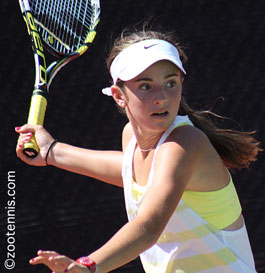 "I've never done any off-court conditioning," the wispy Northern Californian said after wearing down
Katerina Stewart
of Miami 7-5, 6-1 in about 80 minutes July 21 to win the USTA Girls 16 Clay Court Championships' singles crown at
Virginia Beach Tennis and Country Club
. "That's because my on-court drilling is so taxing and intense."
The 5-foot-5, 100-pound Bellis, seeded No. 1 despite being one of the youngest players in the field, won all 12 singles sets she played in the annual eight-day event. She said that surprised her.
"I thought if not before (the final), then today for sure," Bellis said. "Every match I was nervous."
Tournament director Laurie Hackbirth, who has helped run the event since its arrival in southeastern Virginia in 1987, said it was the first matchup of the top two seeds she could remember in at least 15 years.
Bellis, home-schooled since fifth grade in the San Francisco Bay Area city of Atherton, said this was the most meaningful of the four USTA gold balls she has won. She often plays four to five hours per day, six days a week - sometimes with collegians, sometimes with coaches, sometimes with men.
Stewart, a rising 11th-grader who turned pro last year, and Bellis were clearly the top players in the draw of 192. Neither lost more than four games in a set until their championship clash in about 85-degree weather, before a larger-than-usual crowd of several dozen spectators.
For a while, it was an Instant Classic between two players whose dental braces - but not their game - show their relative youth. Bellis recently turned 14, and Stewart celebrated her 16th birthday during the week.
"The caliber of play was exceptional," Hackbirth said.
With Bellis usually hitting flatter and playing closer to the baseline, they traded big groundstrokes, moved laterally with flair and occasionally hit deft underspin drop shots.
Bellis held serve at love and broke for 2-0. But Stewart surged ahead 3-2, winning 12 of the next 13 points, and held her serve for a 4-2 advantage. Playing with the heavy spin she models after her favorite big-time player, Rafael Nadal, "Killer Kat" seemed in control.