Where Are They Now?
Catching Up with Rising Pro Star Ryan Harrison
by Marcia Frost, 12 July 2013
In 2007, when Ryan Harrison and his younger brother Christian turned professional, there were many who criticized the move as too soon, but five years later there's no doubt that he's in the place he's supposed to be.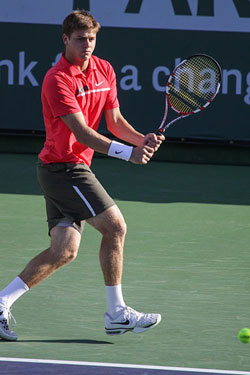 Harrison, now 21, became the youngest player to win an ATP Tour match at 15 years old. He was always a top ranked junior nationally and in 2008 he reached No. 7 in the ITF Junior World Rankings. He also advanced to the semifinals at the Australian Open Junior Championships before moving all of his concentration to the professional ranks.
Ryan, Christian and sister Madison had tennis in their blood as their father, Pat Harrison played college tennis for Oklahoma State and Mississippi before a short pro career. The elder Harrison would go on to be head pro at John Newcombe's Tennis Academy and later move to a similar position at Bollettieri's IMG Academy in Bradenton, bringing his tennis loving children along.
Ryan Harrison reminisced about playing the juniors while visiting the young players at the Longines Future Tennis Aces competition in Paris, "I remember I was 12 years old and we played in Seville, Spain, when the Davis Cup final was there. We lost to Spain in the finals against Nadal when he was like 13 in the world and 18 years old. It was one of his coming out moments, so to speak.
"We had this miniature Davis Cup play. There were four of us from the States and four of the top Spanish guys who were 12 and under," he continued. "It was the first time I ever met Andy (Roddick) and the first time I ever got to see those guys."
Harrison added, "It was really cool. It was a great experience that stuck with me my whole life. So to have the opportunity to come over here and meet these kids and kind of give back to what I was given, and to be able to pass it along, is certainly an opportunity I'm not going to miss."
It took three years in the pros before Ryan Harrison won his first tournament on the Challenger level. It happened in in Honolulu, where he took singles and doubles. It came just after Harrison had his coming out at the 2010 U.S. Open Championships, where he made it through the men's singles Qualifying and won a round before losing in a fifth set tiebreaker to Sergiy Stakhovsky.