Tournament Feature
Day, McNally Take 16s National Open Titles; Shaffer Claims 18s Championship
by
Colette Lewis
, 10 July 2013
Thirteen-year-old Kayla Day came a long way from her Santa Barbara California home last week to compete in the 16s National Open in Kalamazoo, but her first trip to Michigan proved a successful one as she claimed the title in her first national tournament in that division. John McNally took the boys 16s title with a victory over a longtime rival, while unseeded Kennedy Shaffer picked up the girls 18s title on a warm and sunny day at the legendary Stowe Stadium courts at Kalamazoo College.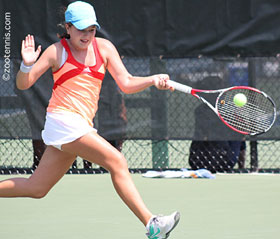 The unseeded Day had suffered a back injury in an automobile accident earlier this year, but she returned to competition in May with a win at the
Utah National Open
in the 14s division. Preferring to play in the 16s division this time, Day wasn't able to get into the 16s National Open in Southern California, so she entered the Michigan tournament instead.
Day defeated the No. 2, No. 5 and No. 4 seeds en route to the final, where she met fellow unseeded left-hander Sophie Abelson. Abelson, a 16-year-old from West Bloomfield, Michigan, had beaten top seed Davina Nguyen in the quarterfinals and advanced to the final when Tiffany Huber, another West Bloomfield resident, retired with an injury after losing the first set.
The first few games were long, with both girls saving break points, but Day began to take control midway through the first set and maintained that advantage in the second set, posting a 6-2, 6-2 win.
"In the beginning I was really nervous," said Day, who trains at the USTA Player Development Center in Carson, California. "I was just kind of hitting it back, but I knew if I wanted to win, I would have to play my game. I thought I served pretty well, I was serving to the right places. She didn't like it to her backhand on the ad side and I was taking my forehand well down the line and taking the ball on the rise well."
Day admitted finally understanding what her coach, Adam Petersen of the USTA, had been telling her about a left-hander's advantage on the serve.
"I was really thrown off by her serve because the spin is all different," Day said. "My coach keeps telling me, keep hitting that lefty slice, people get thrown off, and I'm like, why do they get thrown off? But now I realize it's annoying to deal with."
Abelson, who also had seen her ranking drop due to injury, said she isn't accustomed to playing a fellow left-hander either, although she didn't think it was a major factor in the match.
"I'm definitely not used to playing lefties," said Abelson. "It's different when I'm playing a lefty, and obviously the majority of players are righties. But she played very well. I started off pretty well, but overall, she just played a better match. It's something for me to learn from and work on in the future."
Day said she had heard a lot about Kalamazoo from junior boys she knows, and enjoyed her opportunity to play on the courts where her coach won the 16s Boys National title in 1990, although the board with the former champions' names she had hoped to see was still in storage.
"I like Michigan," said Day, who will play the girls 14s Clay Courts next week. "And I love the site."