Recruiting Feature
What Coaches Look For at a Tournament
by
Colette Lewis
, 18 July 2013
Now that the July 1 contact date for rising seniors is past, the college recruiting season is peaking. While attending the USTA Girls 18s Clay Courts this week in Memphis, Tennessee, I spoke to several college coaches to find out what they are looking for when they attend a major National tournament, particularly on a surface that very few collegians compete on as student-athletes.
College coaches at the Girls' 18 Clay Court Nationals
©
ZooTennis.com
Michelle Dasso
, women's head coach,
University of Illinois
This tournament in particular, being so close after July 1, it's a great opportunity to have a contact if you haven't used one yet. So on Saturday, I met with seven to ten different players that we're really looking hard at. It's a huge opportunity to finally talk one on one, in person. And of course this tournament is just a grind.
It's great to see players play so many matches in the heat and deal with different elements, on the clay. That's the big thing for me, getting to meet them and see how they adjust in the heat and on the clay, watching them over the course of three or four days, in doubles too.
I'm always interested in seeing how they do in the backdraw. As a coach, I love to see the heart and the fight after a couple of long days in the main draw in the heat. You're looking for the competitive player who is driven and wants to lay it on the line, so if they can make a run in the back draw, that always turns my head a little bit.
I love seeing them play inside, play outside in the heat on clay, in the team environment at Fed Cup. There's so many different elements and environments, so I think you have to look at the whole package. In college you're going to be traveling and playing in different conferences at different sites with fans, and you've just got to adjust.
Rodney Harmon, women's head coach, Georgia Tech (Formerly head of men's tennis, USTA Player Development)
What I look for is movement. Their ability to adapt to a different surface. Here you see more variety, what variety they have, how they construct and build points. You see what their shot tolerance is, what their ability to play defense is. And, when they hit good shots, if they'll commit to play offense. You see if they have a well-rounded game: a slice backhand, drop shot, topspin lob.
On hard courts, you're often able to attack and control rallies, but here it's a lot more neutral rallies, so you see if they can adjust to spin and speed, height of the ball, defensive situations.
You also see how they conduct themselves, what their body language is when they're not able to just hit winners through people, when they have to work the ball and work the point more. This will test your endurance, physical endurance, and mental endurance as well.
I want to watch all the girls who have contacted us and all the girls we're actively recruiting, but there are also girls I've seen one or two times that I want to get out and watch them play. You're always looking to find that person that fits your program.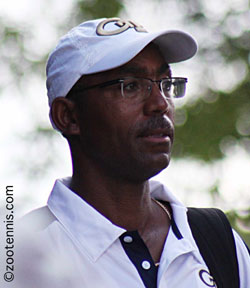 For example, we got Alexa Anton-Ohlmeyer here at Clay Courts last year, which was the first time I'd ever watched her play. I just loved the way she moved, loved the way she competed, conducted herself on the court and we ended up getting her to come to Georgia Tech. Sometimes it's not always the ones you've been looking at or those who have contacted you, but just someone who catches your eye.
I trust my eyes more than the rankings. For me, I feel I've watched enough tennis in my life that I think I know what I want to see in a player. Not only how they hit the ball, but how they set up points, how they conduct themselves on the court. And I trust what I see. The wins and losses don't really matter as much to me as how they play. I think you can always teach someone how to be a little bit more productive, but they have to have a certain skill set. It's fun for me to see the players who have for our program, not only the academics, but the kind of game that would work best for us.