Commitment Announcement
Nishimura Headed to UC Berkeley
by
Gary Curreri
, 23 August 2013
J.T. Nishimura said he can't wait to compete in college tennis.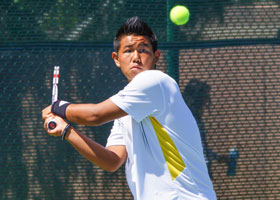 "Playing in the Pac 12 conference against schools like
USC
,
UCLA
and
Stanford
will be awesome," said the 17-year-old Nishimura, who recently committed to attend the
University of California at Berkeley
. "I love being in a team environment.
"I have always enjoyed the competitive nature of tennis," added Nishimura, of San Jose, California. "But it is a very individual sport, so I am very excited to have teammates and compete in a team setting."
Nishimura, who attended Menlo High School in his freshman year and led the squad to the California State Section, will enter his third year at Piedmont Hills High School in the fall. He has not played on the Piedmont Hills tennis team, but he is very excited about going to UC Berkeley and competing for the Cal team.
Nishimura said he appreciated the time all of the colleges took to spend with me as he came to his final decision.
"I had great experiences on the unofficial visits to several universities I was interested in," Nishimura said. "All the coaches I met with were very nice and had amazing programs, but I felt Cal was the best fit for me.
Nishimura said one of the key factors in his decision was the connection he felt with head coach Peter Wright and assistant coach Tyler Browne. He said he is unsure of his major, but he will take a variety of courses and then settle in on one.
"Coach Wright has been the coach at Cal for 20 years and has lots of experience," Nishimura said. "Coach Browne still competes at a high level, and I think that helps all the players.
"He trains with them on the court, and he keeps things competitive yet fun and positive at the same time," Nishimura added. "Both coaches attended Cal and were great players and captains on their teams. I really like that they have stayed with Cal and have worked to build such an elite program."