Commitment Profile
Blue Chip Grad Tyler Lu is Off to Yale
by Rhiannon Potkey, 5 September 2013
Like many little brothers, Tyler Lu looked up to his big brother.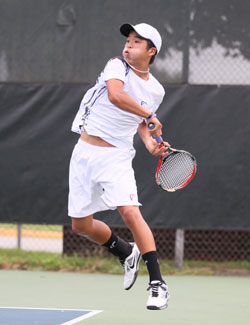 Tyler wanted to be just like Austin, and did everything Austin did.
Once Austin decided to play tennis, Tyler decided he would give it a try.
Although Tyler's entry into the sport was late by typical standards, he quickly made up ground through hard work and dedication.
The reward came when Tyler committed to play at Yale University. The blue chip recruit from Irvine, Ca., will begin attending classes in the fall.
"Going into the recruiting process my main goal was definitely to pursue a school for its academics, and tennis gave me that opportunity," Tyler said. "I pretty much focused exclusively on the Ivy League schools, and I felt that Yale was the top tier of the Ivies. I felt it had the best balance between social life, academics and athletics."
Tyler didn't start playing tennis until he was 12, and he didn't focus exclusively on the sport until he reached high school.
He always kept busy with practices for basketball, baseball, soccer and swimming.
"It turned out as I got older I started liking tennis more than the others," Tyler said. "I think the best part about tennis for me is the individuality, how the outcome is based on yourself only. You take the blame for a loss and take the glory for a win."
Austin wasn't surprised when his little brother quickly began making up ground on the court.
"From the start, anything I would get into he would also try to get his feet wet in as well and it turned out tennis was something he really took to," said Austin, 21, who attended UCLA and played club tennis. "He has a lot of ambition, and he picked tennis up really fast and ran with it obviously."