Commitment Announcement
Countdown: Baker Newman a Commodore
by
Gary Curreri
, 22 October 2013
Miami's Baker Newman pretty much knew on his visit to Vanderbilt University that it was going to be his college of choice.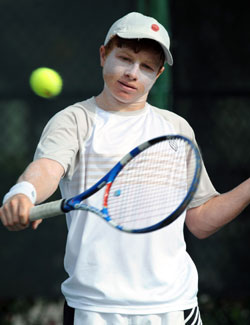 Newman, 17, a senior at
Gulliver Prep
, chose Vanderbilt from a cache of five finalists, including Vanderbilt,
Northwestern
,
Wake Forest
,
Illinois
, and
Miami
.
"I took two official visits to Vanderbilt and Wake Forest," said Newman, who has gone to Gulliver Prep since 1999 (Pre-K). "I saw Northwestern and Miami unofficially, and I saw the University of Illinois when they hosted the Junior Davis Cup."
"I decided on my visit," Newman added. "I absolutely loved everything about Vanderbilt. The coaches (Ian Duvenhage and Jaime Hunt) are awesome... I loved the guys on the team... It's a great school, and Vanderbilt competes in the SEC."
Newman said he is happy to stay fairly close to home.
"Coming from Florida, I'm really happy to be able to stay in the southeast," Newman said. "It also gives me a chance to maybe play against my older brother Spencer Newman who plays at the University of Florida."
Even though his résumé shows a trip to the 16 Boys National Clay Court Finals, Baker Newman said one of his biggest highlights came in a 6-2 victory over his brother, Spencer, in a practice set two years ago.
"Beating my brother Spencer in a practice set was very memorable," Newman said. "It was the day before we left for Kalamazoo. I was so happy! It was the first time I ever took a set, and it was the last time we have played."
Spencer Newman, a senior at the University of Florida, was a top-15 national recruit. Spencer Newman reached the semifinals at the 2009 USTA International Spring Championships, advanced to the quarterfinals the following year, and won the Orange County Winter Designated Boys' 18s in 2010 with a 6-3; 6-1 win over top-seeded Gordon Watson.
Baker Newman started playing tennis when he was six. His two other brothers, Spencer, 20, and Trevor also have a tennis background. Trevor Newman, 22, stopped playing tennis when he was 14 but loves fishing and surfing.