Who's Hot?
Prince Hot 100 List - September '13
by Amelia Thomas, 18 September 2013
Although junior tennis players are now fully back into the swing of school, today we feature players that amped up their games for the last few weeks of summer. Some of these few top performers are featured in this September edition of the Prince Hot 100.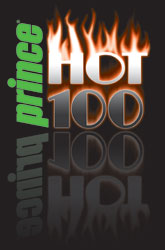 The Prince Hot 100 lists are published each month, and the September Hot 100 lists feature the one hundred boys and girls who most improved their rankings during the month of August. You can find out more about the Prince Hot 100 - and how the lists are calculated - by reading here.
The latest lists, published earlier this week, are now available:
Let's check out a few of these players...
Roundup
Anna Radeva (Costa Mesa, Calif.)
Four-star junior Anna Radeva not only grew up around tennis, she was born into a family of athletes. "I think it's unique that I come from a very athletic family," she said. Both her parents were world-class flat water kayakers in Bulgaria.
"My mom has won over 100 medals from different regattas all over the world, including a bronze medal in the World Championships in Canada and a silver and bronze medal from the 1988 Olympic Games in Seoul, South Korea," Radeva said.
What drew Radeva to tennis in particular, however, was her sister, Nelly Radeva, who played for both UC Berkeley and Vanderbilt University. "Since my older sister was a top junior player, I would always go watch her play," Anna Radeva said. "I was always helping with picking up the balls and before I knew it, I was playing in the local eight-and-under tournaments."
Her parents, Bogie and Diana Radeva, witnessed the inspiration that their older daughter gave Anna. "Since our older daughter chose to play tennis and did so well in her career, we believe that Anna got inspired by her and wanted to continue in the same path," they said.
Anna Radeva's athletic background has helped her set goals. "My improved game is the result of my dedication, hard work and my goal to be a top ranked player not only in California, but in the nation as well," she said.
Radeva describes her game as aggressive. "I think I am a very aggressive baseline player," she said. "I try to take control of the point from the first shot. My strengths include not only my forehand and serve, but also my dedication, passion for the sport and willingness to work hard."
The five-foot-seven player enjoyed great success last month. She won the Lakewood Summer Junior Tournament as well as all three of her matches at the Jim Buck Team Tournament. Her performance earned her an 8-0 record for the month of August.
Radeva also has more long-term goals for her game. She hopes to play for a top-ranked college or university. "My goal is to do well in college and win the NCAA so I can get a wildcard for the US Open," she said.
Her parents have no doubt that Radeva will carry her success into the future. "Anna is very motivated, focused and dedicated in everything she does," they said, "therefore we believe that our athletic genes are going to help her succeed and accomplish her high goals in tennis."