Commitment Announcement
Countdown: Karim Arem to the Big Red
by
Ali Jones
, 5 November 2013
Karim Arem's college plans have always been anchored on academics more than athletics, never mind that he is a five-star recruit with a history of remarkable on-court achievements.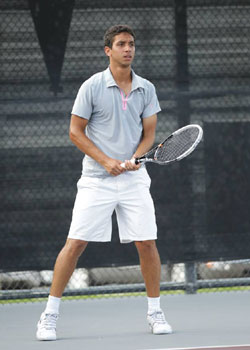 To him and his family, the Ivies represented the best education anywhere in the world, so that limited his college list to a handful:
Cornell
,
Harvard
,
Yale
,
Columbia
,
Dartmouth
and
Brown
.
Cornell, however, had an unfair advantage: Arem's older brother is currently a junior there. Mansour doesn't play tennis, but he encouraged Karim to contact the coach.
That suggestion proved to be the best advice given by one sibling to another.
As Arem got to know Coach Silviu Tanasoiu and Cornell better, the more he was convinced it was the perfect place for him. By the end of summer 2013, Karim Arem verbally committed to join the Big Red next fall.
"I want to study engineering, and Cornell is arguably one of the most rigorous and one of the best in the world in this department," he said. "Academically, Cornell had the most to offer for me. On top of that, I would be with my brother for a year, which would be a little brother's dream come true - at least for me."
While some would be put off by Ithaca's upstate location, Arem loves it.
"Cornell's campus is just beautiful," he said. "I don't know of many schools that have about 150 waterfalls within a 10-mile radius. I like the fact that it is isolated in a college town. In my opinion, Cornell is not part of the town but is the town. In this kind of environment you quickly become part of a family, which I think is very special."
Arem found in Coach Tanasoiu an approach and philosophy that he believes will help him regain the form and success that characterized much of his early career as one of Texas' tennis prodigies.
"Silviu sees a lot of talent and potential in me," Arem said. "He actually witnessed my loss of confidence and ability to bounce back more than a year ago. I think he sees a lot of himself in me as a junior tennis player, and he believes he can help me take my game to the next level and reach the great potential that I have."
Arem's natural tennis abilities were first noticed by the coaches in Tunisia, where he lived between ages five and nine. He was born in Houston to Tunisian doctors who thought it was important for their two sons to be immersed in their ethnic roots and embraced by their extended family.