Where Are They Now?
Catching Up with Megan Moulton-Levy
by Marcia Frost, 7 October 2013
Megan Moulton-Levy is one of the most successful players to come out of William & Mary. She was a six-time All-American, four-time CAA Player of the Year and won the most singles and doubles (combined) matches in the school's history. She was also well-known for her demeanor on the court, and it was recognized twice with ITA National Arthur Ashe Awards for Leadership and Sportsmanship.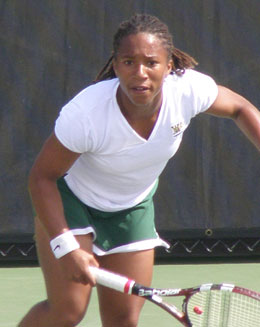 Megan Moulton-Levy has made a career with doubles
© Marcia Frost
The Grosse Pointe, Michigan, native excelled in college in singles, but it was her doubles that really shined. Despite her stature (barely 5' tall), she was a wiz at the net, and she and partner Katarina Zoricic brought the
ITA National Indoor Doubles Championship
to the Tribe in 2006 - as well as a finalist trophy from the
2007 NCAA Division I Doubles Championships
.
Moulton-Levy graduated from William & Mary in 2008 with a degree in sociology and headed straight for the pro tour. She hasn't left yet, excelling each year in her ranking after she made the decision to focus on doubles.
"I'm strictly a doubles-only player at this point," she acknowledged. "I got up to about 230 in singles when I first started, but that was a while ago."
This summer Moulton-Levy also had a chance to play World Team Tennis for the Sacramento Capitals.
Coach Wayne Bryan led her along with Mardy Fish, Sam Querrey, Mark Knowles, Ryan Sweeting, Taylor Townsend and another former college standout, Irinia Falconi (Georgia Tech). It gave her a chance to play mixed doubles something she doesn't get to normally do.
Moulton-Levy is a strong supporter of the game of doubles - mixed or otherwise.
"Doubles is so hugely important. You think about someone like Jelana Jankovic, who was struggling at the beginning of the year with her singles game. She started playing doubles, a lot of doubles at every tournament. Her singles game has excelled. I think they are directly correlated. I think that because she was working on coming in and being aggressive that might have helped her singles game.
"This is something that is huge for all players, particularly in college. All of the college players who are playing pro are playing doubles. It was such a great opportunity to play doubles in a competitive environment and learn the pressure and do that."
Megan Moulton-Levy is now ranked No. 53 in the world by the WTA in doubles. Though she had a tough time at the 2013 U.S. Open Championships, she's generally had success this year. She now has 10 ITF doubles titles to her name.