Commitment Announcement
Missouri's Will Little Gives Early Commitment to Baylor
by Rick Limpert, 1 October 2013
Saying there were many factors that went into this decision, one of the top juniors in the nation, Will Little has given an early commitment to Baylor University and head coach Matt Knoll.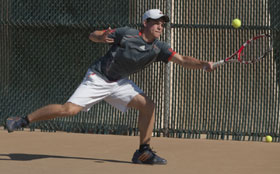 "First of all, my sister goes to Baylor, so there is that connection," explained Little. "[Coach Knoll] has seen me play, and I've played a couple tournaments in Waco. But he is from Pittsburg, Kansas and I'm from Joplin, Missouri - so there is that connection with both of us being from the area."
Little says that his sister is having a great experience at Baylor, and he takes comfort in the fact that he will know someone on campus.
With this early commitment to Baylor, Little says this sets him up to graduate early and start Baylor as a freshman in January of 2015. After redshirting that spring season, Little says he'll be ready to go.
"Graduating early will give me a chance to get used to school and hit with great players every day - something I don't have here in Joplin."
Today, Little says his main focus is on tennis and school, but his mind doesn't stray far from Sunday, May 22, 2011. This was the day a devastating tornado hit his hometown of Joplin and changed his town, and many who lived in it, forever.
"Thank goodness my family was not affected directly by it, but I've known so many people that were affected - my best friend lost his house," offered up a grateful Little. "My family and I were in our basement, and we didn't know what was actually going on because it was so unexpected. You could hear craziness going on (from the basement) and when I went outside I saw trees completely blown over - it was just crazy."
Little said the annual USTA Pro Circuit Futures tournament that is held in Joplin was cancelled in 2011 due to all the damage and clean up, but it's back now, and he's looking forward to having the opportunity to play in it this coming year.