News & Features
Commentary
My Take on College Tennis
by Marc Lucero, 25 September 2013
Special from
RAMP Tennis
I want to start this piece by making one thing very clear so that there is no doubt about where I stand: I love college tennis. I have had a great experience as a player, coach, and now as a fan. I loved being the last player on court at 3-3 in a dual match and heading into a 3rd set breaker. I have seen some epic matches in the last couple years in person, maybe the most memorable being Stanford vs Virginia men at Stanford two years ago. I've sat in front of my laptop watching live scores change for women's tennis matches. All of this being said, I think we need to be open to a change in the format in order to preserve the future of the sport in the changing landscape of college athletics.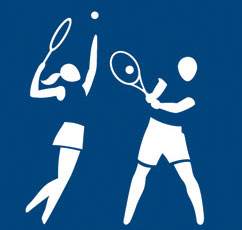 Conferences are being consolidated and have larger geographic footprints. This makes travel more intensive and expensive. More dollars are at stake in the big sports (football and basketball) and as a result more dollars are being invested in them. Women's tennis is pretty safe because of the need for Title IX compliance. Men's tennis worries me. It is a small team, not many scholarships, and generally not many fans. Yes there are some programs that engage the community and have support. But these are the outliers.
Lets take a look at soccer. Soccer has gone from being a niche sport to a mainstream sport. College soccer is on ESPN's family of networks. Evening college soccer games on weekends get nice family crowds and tons of kids running around in their soccer club sweatshirts wanting to be the players on the field someday. Why can't this be tennis? Especially if Ten And Under Tennis helps get this wave of new players- they will need somewhere to go and watch some good tennis close to home. What gets kids engaged and what do parents look for? Activities that are fun (let the product speak for itself but make it exciting), inexpensive, and not too long of a time commitment.
College tennis matches are pretty long, especially when two evenly matched teams square off. Doubles pro-sets can take over an hour. Add a 10 minute intermission and then singles matches that will easily take two hours, three if there are some good three setters. So its easy for a match to push four hours. For someone not participating in the match, this is a pretty long time. I have a very hard time watching a full match these days. I will either watch doubles and leave after a set of singles, or arrive for the end of doubles and watch the singles. But to sit through a whole regular season match is hard work. And I watch a lot of tennis.
One of the biggest problems I see with college tennis is that the doubles point can be so exciting. Why is this a problem? Because there is so much energy, so much passion, and so much drama while its being settled and then a team goes up 1-0 and then NOTHING for ten minutes. Then singles begins and everything starts over and things don't get exciting for another hour. When I watch a match I actually get tired watching the singles warmups and the first couple service games.
This Article Is Available Only to Recruiting Advantage members
Please log in to access premium TennisRecruiting.net content.
| | | |
| --- | --- | --- |
| LOG IN | | NOT REGISTERED? |