Recruiting Profile
Martin Redlicki to Join Brother Michael at Duke
by
Colette Lewis
, 27 September 2013
Despite heights suitable for basketball, tennis is the sport of choice for 6-foot-8 Michael Redlicki and his younger brother Martin, who is 6-foot-5. But basketball terminology probably best describes Martin's decision to join Michael, currently a sophomore at Duke, in the fall of 2014, with the choice resembling a layup rather than a slam dunk.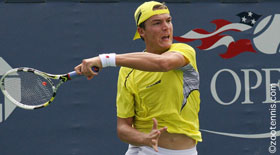 "I wasn't 100 percent set on Duke," said Martin, who won the
US Open boys doubles title
and reached round of 16 in singles at the tournament earlier this month. "But it was near the top of the list, because my brother was already there. I had visited a few times, and I really liked it from the beginning, but it wasn't set in stone."
The 18-year-old Florida resident, who considered Texas, Texas A&M and Georgia before verbally committing to head coach Ramsey Smith, said his brother didn't resort to any high pressure tactics to steer him toward Durham.
"Every time I was there he just showed me everything that was good about Duke, everything that would make me go there and make me a better tennis player," said Redlicki, a blue chip ranked ninth in the class of 2014. "I just really like everything - the coaching, the facilities - everything is just what I'm looking for."
Michael's outstanding freshman year, in which he posted a 31-11 record at No. 2 and No. 3 singles and received the ITA Carolina Regional Rookie of the Year award, contributed to Martin's favorable impression of the program, as did Duke's formidable academic reputation.
Online-schooled since the start of his sophomore year, Redlicki admits some uneasiness in balancing his classroom and tennis commitments while at Duke, although his brother and other members of the tennis team have reassured him.
"I've been talking to my brother and some of the guys on the team, and they say, yeah, it's Duke, it's Top Ten academically, but it's a school that you can make as tough as you want or as easy as you want. There's a lot of wiggle room, if you will," Redlicki said. "It's not like, you're going to Duke, it's impossible academically. He said it's not like that at all."
Redlicki, a senior starting his second year with Florida Virtual School, has yet to decide on a curriculum at Duke.
"I'm more of an English kind of guy," Redlicki said when asked what classes he most enjoyed. "Not so much the math and science. More writing, reading, that kind of thing, not so much numbers."
Redlicki was born in Illinois, but speaks fluent Polish thanks to his parents Marek and Beata, natives of Poland who immigrated to the United States.