Commitment Announcement
Blue Chip Senior William Griffith Commits to Cal
by
Ali Jones
, 3 October 2013
"There are so many great schools in California that you can't really go wrong," William Griffith said of his decision to narrow his college choices to those in his home state.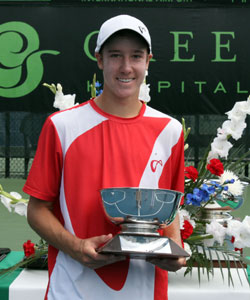 The blue chip's visits to
UC Berkeley
,
UCLA
and
USC
reinforced this belief, but did not make his decision easier.
"What they all had to offer in both academics and athletics is amazing," said the 18-year-old senior. "There wasn't really much separating the three, they're all equally good. I liked everything about each campus - its facilities, team and coaches. I felt that all three colleges were good for me."
Having been born and raised in Fresno, however, Griffith had a natural affinity for Cal. After much thought, he accepted a verbal offer from Cal Coach Peter Wright.
"I've always been a NorCal kid, and I was just more comfortable at Cal," he said. "I was very impressed by the team, its coaches and more important, Cal's school spirit, reputation and tradition. It just seemed perfect for me."
He plans to major in business and may try his hand on the pro circuit afterward.
His impressive ascent in tennis happened over a short period of four years under the experienced eye of Brad Stine, whose coaching experience spans through all levels, including top-ranked juniors, collegians, and professionals.
In one of his most memorable tournament runs, Griffith made his mark this year as a qualifier in his very first ITF tournament. He battled and prevailed through nine matches to win the 2013 Claremont ITF over Bruin Gage Brymer in the finals.
"I just love to win," he explained. "I'm motivated out there and will do everything to win. In this sport you have to be super competitive. You have to want to win and that attitude has helped me."