Commitment Profile
Fall Signing Week '13: No 'Quit' in Johnson as He Heads to TCU
by Rick Limpert, 14 November 2013
Playing college tennis was nowhere on the mind of a 12-year old, Trevor Johnson.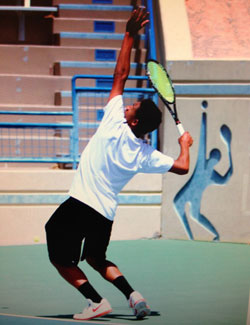 Having started playing tennis at the age of 7, the Las Vegas native immersed himself in the sport after starting in clinics and then moving up to individual lessons.
But at the age of 12, he was burned out.
"I quit," said Johnson. "I quit from the age of 12 to 13. Then my parents saw me doing basically nothing; so they said I would have to play tennis again."
Johnson immediately began putting in seven-hour days, training on and off the court, and for that, TCU Men's Head Coach David Roditi and the rest of the Horned Frogs are grateful.
Picking TCU from a host of other top schools wasn't an easy decision at first for Johnson, but when he took his official visit to Ft. Worth, he liked what he saw.
"When I went there on a Wednesday to Friday, something just clicked with the coach and the team," admits Johnson. "It was a perfect fit. My aspirations are pro tennis so I just feel like I'm trying to find a path to get there. I saw that they are working hard and motivated. That said something to me."
Johnson eschewed offers from traditional tennis powers like USC and UCLA in Pac 12 for a chance to compete in the Big XII.
"The Big XII, they have a pretty tough conference. I know they play Baylor and a lot of the big schools," added Johnson.
For now, and until he heads off to TCU, Johnson is under the direction of former UNLV player Henner Nehles at Darling Tennis Center in Las Vegas.