Who's Hot?
Prince Hot 100 List - November '13
by Amelia Thomas, 20 November 2013
The 2013 Fall Signing Week has come to a close, and a sense of normalcy has returned to the Tennis Recruiting Network. As always, many junior tennis players are still working hard and trying to do their best on the courts. We recognize some of these performances in this month's Prince Hot 100 Lists.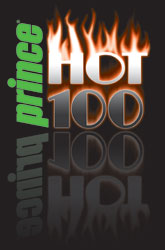 The Prince Hot 100 lists are published each month, and the November Hot 100 lists feature the one hundred boys and girls who most improved their rankings during the month of October. You can find out more about the Prince Hot 100 - and how the lists are calculated - by reading here.
The latest lists, published earlier this week, are now available:
Let's check out a few of these players...
Roundup
Sara Putman (Savannah, Ga.)
Three-star freshman Sara Putman credits her mother for her recent success. "She was the one who sat me down and really talked to me about where I wanted to go with tennis," she said. "My mother was the one who brought to my attention that if tennis was the sport I wanted to play, then I would have to commit to it."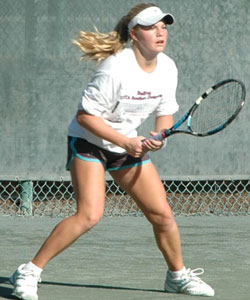 Her mother was right, and Putman has dedicated her time and energy for the past few months to building up her tennis game. "I am really pleased with the results, and I am very excited to see what is in store for the future," she said.
Putman describes her game as versatile. "My comfort zone is to hang back on the baseline and rally, but I love to be aggressive and finish the point off early," she said. "I have a strong forehand that continues to be my steady mate and a controlling backhand that allows me to move my opponent around."
The Savannah, Georgia native used these skills in a match against four-star freshman Lauren Joch in the finals of the K-Swiss Kiawah Island Junior Championship. Putman took the first set with ease, but the second set proved to be more difficult.
"What made the match so great was that final 10-point tiebreaker for the third set," Putman said. "In the end, both of us were scraping for every single ball, and I'm sure my mother was standing on needles on the sidelines." Putman pulled out the win after the 10-8 tiebreaker, winning the tournament. "It was such a great match, and I continue to praise Lauren for how well she played."
In addition to this victory, Putman reached the consolation finals of both the Raleigh Racquet Club Junior Classic and the Georgia State Junior Fall Open Championships. She also battled to the semifinals of the Van Der Meer Southern Championships, all in the month of October.
Putman is also active outside of tennis. She participates in her school's Future Business Leaders of America club. "We do a lot of community service and projects where we compete against others in our state, region and nation," Putman said. She is currently working on a presentation for a competition against other schools at the regional level in January.
Putman's mother, Libby Putman, is her biggest fan and has no doubts about the future of her daughter's game. "Sara is a fun-loving kid with so much to look forward to," she said. "She works really hard at whatever she focuses on, and I think this trait along with her competitive nature and athleticism will help her succeed, whatever road she chooses."