by TennisRecruiting.net, 13 January 2014
A new television series, Inside College Tennis with Tony Minnis, premieres this Tuesday, January 14 at 9pm EST / 6pm PST on the Tennis Channel. The entire tennis community - and particularly readers of Tennis Recruiting - should be very excited about the new program.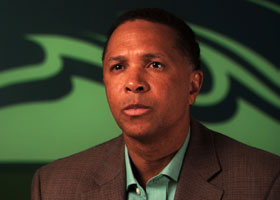 Inside College Tennis
is a 30-minute program that visits one college tennis venue each episode, highlighting the coaches, players, and facilities of both the men's and women's teams. And - of particular interest to Tennis Recruiting visitors - Minnis also talks with coaches about the recruiting process.
Whether you are a die-hard college tennis fan or someone who doesn't know anything at all about the sport, there is something for everyone in Inside College Tennis.
We got the chance to talk with Minnis about his exciting new program late last month, and we ran our first Q&A piece last week. With the premiere tomorrow, check out Part II of our interview...
Questions and Answers
Tennis Recruiting (TR): You were the head coach at LSU for 21 years, so you obviously have a lot of experience in coaching. Have you, yourself, learned anything so far during your visits for the show?
Tony Minnis (TM): Absolutely - I've learned a lot. It has been intriguing to learn the strengths of the different institutions and the different selling points of the programs and schools.
When you are a college tennis coach, there are questions that you hear over and over again. I spent a lot of time at LSU coming up with answers to those questions. It has been fascinating to hear different answers from other coaches - answers that are tailored to their unique situations.
TR: College tennis programs now have some amazing facilities. Have you seen anything that was unique or that impressed you?
TM: Of course! Both Tulane and TCU have gorgeous facilities. Walking into the tennis center at TCU - you feel like you are walking into a country club.
It seems like all universities have upgraded their tennis and athletic centers over the past five to ten years. Athletic departments seem committed to providing great facilities for their programs - and tennis is no exception.
TR: You seem like a natural host for a show called Inside College Tennis - having played and coached college the game. Tell us about your playing days at Louisiana Lafayette.
TM: Well, that was a long time ago - back when we were called Southwestern Louisiana. It seems to get worse every year. (Laughs)
Playing college tennis was an awesome experience for me. We had a strong program back then - USL was ranked in the Top 25 throughout my college career, and we got better every year. I still remember making it to the Sweet 16 of the NCAA tournament and playing USC during my senior year. The support we had - both from the school and from fans - was unbelievable.
Like I said, it was a great experience, and I have fantastic memories. My time as a college tennis player ultimately propelled me into college coaching.
TR: The first couple of shows - TCU and Tulane - have already been filmed. How do they look? What is most surprising or impressive to you about them?
TM: The TCU show - which premieres tomorrow night at 9pm - is done, and the production staff is finishing up with the Tulane show now. The videos themselves look fantastic. I am so impressed with how they were able to take the footage we shot and craft something that looks so good.
One of the best things about making these shows has been working with the producers at
Bill Rodman Production Shoppe
. They shoot great video, and they have given me great guidance on how to do things the right way. And I have been pleasantly surprised by how knowledgable they are about tennis.
Like I said, the final product is very professional-looking. The people at the Tennis Channel seem very happy with it.
TR: Our community at Tennis Recruiting is heavily slanted towards junior tennis players and their parents. What is the Number 1 reason they should tune into Inside College Tennis with Tony Minnis?
TM: Because there is so much to learn. In my experience, many families did not understand the recruiting process - and many kids went off to college without an understanding of what they were getting into. Our show can help educate those kids and families.
Viewers watching our show will get a look at the drills - get a look at the level of conditioning these kids are expected to achieve. Hopefully kids will get an understanding of the level of commitment that college tennis requires - and what it takes to get there.
We also talk a good bit about about recruiting and the rules surrounding the recruiting process. We talk about email interactions, phone interactions - what college coaches are looking for.
I am very happy that junior tennis players and their parents will be able to learn about college tennis and recruiting. I think it is a no-brainer that visitors at TennisRecruiting.net should watch Inside College Tennis.
Inside College Tennis with Tony Minnis will premiere on the Tennis Channel tommorrow, Tuesday, January 14, at 9pm EST / 6pm PST.
Check out the full coverage schedule on their
Facebook page
or by checking Tennis Channel listings.
Leave a Comment
More Special Features
12-Sep-2019
From Three-Star to All-American, Touliatos Thrives in College
Preston Touliatos was a three-star recruit with hardly any offers out of high school. After playing one year at Eastern Illinois, he transferred to Tennessee as a walk-on and developed into a doubles All-American for the Vols. Touliatos is now pursuing a pro career before entering med school.
19-Aug-2019
Gorzny on the Road to Recovery Following Major Health Scare
Sebastian Gorzny suffered a serious health scare during the USTA Boys 16s National Championships in Kalamazoo. The 15-year-old was hospitalized for seven days after his father found him unconcious and having seizures in his hotel room bed at 2 a.m.
9-Aug-2019
Spizzirri Brothers Reach International Heights in Tennis, Squash
Twins Eliot and Nicholas Spizzirri are both experiencing international success with racquets, only in different sports. Eliot is one of the top rising senior tennis players in the world while Nicholas is charting his own path in squash.