Commitment Profile
Blue Chip Lebedev a Fighting Irish in 2015
by
Ali Jones
, 15 January 2014
Alexander Lebedev was "blown off the court" in the first set by Cameron Klinger at the 2013 Boys 16s Kalamazoo Championships.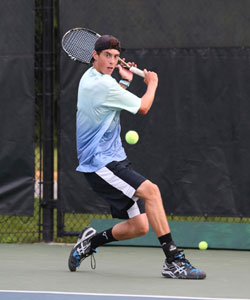 But the sustained focus, discipline, patience, skill and determination displayed by Lebedev in a rain-soaked match that lasted over five hours, and which he won, made an impression on fellow players, tennis enthusiasts and college coaches alike.
Such a performance at Kalamazoo, one of junior tennis' biggest stages, merits serious conversations between players and college coaches. Among those who expressed interest in Lebedev, who is still a high school junior, was Notre Dame.
Irish Assistant Coach Adam Schaechterle approached Lebedev's coach and later Lebedev himself. Over the next few months Lebedev's interest in the school deepened, and in November, the young athlete made an unofficial visit to South Bend.
Shortly afterward, the blue chip from Island Park, New York, verbally committed to play for the Fighting Irish in 2015.
"When I visited on campus, the coaches were super cool," Lebedev recalled. "After ten minutes of talking to the guys on the team, I just struck a bond with them. It was as if I was already part of the team. The assimilation was flawless."
After more meetings with coaches, researching the school's academics and athletics, and visiting the campus, Lebedev's decision came easily.
Lebedev also got to know Irish Head Coach Ryan Sachire during his visit.
Sachire, a former touring professional and one of Notre Dame's top tennis players in its history, served as associate head coach to Irish icon Bobby Bayliss, who retired in 2013 after 26 years as head coach.
In his six years as Bayliss' assistant coach, Sachire helped the Irish to six straight NCAA appearances, two Big East crowns and a national ranking of six in 2007.
All that did not escape Lebedev, who also liked the fact that both Sachire and Schaechterle (formerly head coach at the University of North Florida) share the same philosophy of coaching and goals for Irish tennis. They both believe that their stewardship does not end on the courts.