Commitment Announcement
Countdown: Katelyn Jackson Signs With Texas Tech
by James Hill, 27 March 2014
Katelyn Jackson, a Five-star recruit from Roland, Ark., will add to the luster of the Texas Tech University women's tennis team next fall on the Lubbock campus.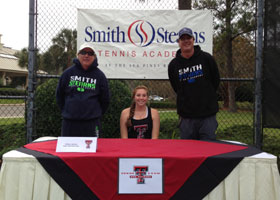 Katelyn, the top-ranked player in Arkansas, signed the National Letter of Intent with Lady Raiders head coach Todd Petty in November. Petty also inked Blue Chip senior
Sarah Dvorak
of Kurtistown, Hawaii.
Katelyn, who stands 5-foot-5, is an aggressive left-hander who has been ranked as high as No. 44 in the nation. She wanted to remain in the south and play for an NCAA Division I school. Katelyn visited Ole Miss and considered other Southeastern Conference institutions. But Big 12 Conference member Texas Tech won the heart of Katelyn after her official visit.
"I just knew that the fit seemed right," Katelyn said. "I have always loved playing tournaments in Texas, and I felt that playing for Texas Tech seemed like the best fit for my future goals in education and tennis. Coach Petty stressed the player development aspect of the program. My goal was always to play at a college where I could continue to improve my game, and I felt that coach Petty could help me to reach this goal."
Katelyn is the top-ranked senior from Arkansas - ranked No. 58 nationally in the Babolat Class Rankings with an RPI of 77.
She earned her "stars" at a number of tournaments. Katelyn captured the Girls 18s Fall Southern Closed Championship, and the Arkansas Junior State qualifying doubles crown. In June, Katelyn reached the No. 1 ranking in the USTA-Southern Section. Katelyn advanced to the semifinals of the 2013 Southern Spring Closed Championships, and won the Polar Bear Classic singles and doubles championships. In addition, Katelyn was a semifinalist at a 2013 USTA National Open.