Who's Hot?
Prince Hot 100 List - March '14
by Amelia Thomas, 20 March 2014
With the hectic weather this season, everyone is grateful for Daylight Savings Time's return. No one is more excited than junior tennis players, who are taking advantage of the extra hours of sun to train. We checked in with a few of top performers in this month's Prince Hot 100.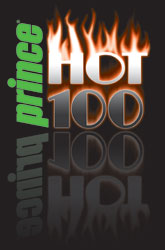 The Prince Hot 100 lists are published each month, and the March Hot 100 lists feature the one hundred boys and girls who most improved their rankings during the month of February. You can find out more about the Prince Hot 100 - and how the lists are calculated - by reading here.
The latest lists, published today, are now available:
Let's take a look at a few of these players...
Roundup
Zoey Nelson (Goodyear, Ariz.)
Four-star freshman Zoey Nelson credits her athletic growth to the close relationship she has with her coaches. Her very first instructors were Robert and Karla Wojcik of Delray Competitive Tennis, who taught her the basics. She then switched to Karla's brother, Rodrigo Navarro. "He made me a strong baseliner with a great backhand," Nelson said. "Then I started training with their father, Willie Navarro, who made sure my strokes never fell apart."
Two years ago, Nelson began working with another Navarro family member, Jessica, who is now her current coach. "She has really allowed me to become a better player by taking what her father and siblings started and adding to my game the consistency and footwork," Nelson said. "This family of tennis coaches changed my life, and they have always treated me like a member of their own family."
This bond has made a big difference in Nelson's game. Recently, she and Jessica Navarro have been working on her patience and conditioning. "I have really worked hard to improve my level of play by staying in the point longer and waiting for the right shots," she said. "I have also increased my fitness level. This has helped with my endurance throughout the match so I can finish strong."
Nelson's father, Travis Nelson, serves as her physical fitness instructor, and she gets extra practice with him. "I am currently working on consistency and footwork," she said. "My father is my physical trainer, and we are always working on different fitness drills to maintain strength and agility."
Nelson competed in two tournaments last month. She won the consolation event of the Cactus Cup Junior Masters and reached the playoff in the USTA Closed Regional in Tucson. Her performance earned her a 7-3 record for February.
The five-foot-six player, however, named her best match of late as one back in December at the USTA National Winter Championships. She competed against Blue Chip seventh-grader Marcella Cruz.
"This was my first win over a Blue Chip," Nelson said. "She was a very tough opponent, and we were both playing great. I kept telling myself to not give up and to keep fighting. I was able to maintain consistency and keep my mental game in check." This strategy allowed Nelson to win 7-6, 7-5.
With the energy spent on tennis, Nelson has little time for other activities, but she does take time to give back to the community. She volunteers at a retirement community and finds this to be a very rewarding experience.