College Feature
Match Tiebreaker for Third Set Not Popular with Top Division I Coaches in Charlottesville
by
Colette Lewis
, 19 February 2014
The experimental phase for ITA Division I formats is over, concluding with the men's and women's ITA Team Indoor Championships.* The men's experimental format, which employed no-ad, and the women's experimental format, which used a match tiebreaker in lieu of a third set, will now be evaluated for their effectiveness in providing an improved fan experience and shortening match times.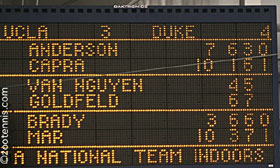 An odd-looking scoreboard at the end of the Indoor final
©
ZooTennis
At the
Women's Team Indoor
earlier this month in Charlottesville, Virginia, I spoke to 13 of the 16 head coaches there, as well as
Dustin Taylor
, the USTA's National Coach for Collegiate Tennis, and Mitchell Frank, the
University of Virginia
's No. 1 player, who is leading the student-athlete opposition to any change of format. In part one of this two-part series, eight top Division I women's coaches give their thoughts on the experiment.
* The USTA College Match Day format, with doubles last and only played if the score is 3-3, will continue, with 20 matches scheduled in the next two months.
Mark Guilbeau, head coach, Virginia
It was something we had to do. I think all of the players handled it really well. It's very hectic, and I give the kids all the credit in the world, but I think it takes away a little bit of the fun. They need to focus in there, enjoy what they're doing instead of rushing through it.
Personally, I prefer the other format. I think we had made some great changes about ten years ago (the women changed to the men's format, with three 8-game pro set doubles matches followed by six best of three singles matches, in 2000), that the people that have been in it long enough can understand. At that time, it seemed like a massive change to go to the eight-game pro set for dubs, play the doubles first, all the things we've transitioned to. I thought the format, which we'll play the rest of the year, our current format from last year, is absolutely the best way to go.
I certainly respect all of the decisions that are made, what the ITA's trying to do with the big picture, TV and whatnot, but I think tennis is a pretty pure sport, and I'd like to make sure we keep it that way from a scoring standpoint.
Geoff Macdonald, head coach, Vanderbilt
The 10-point breaker is, in a way, an equalizer. It's almost like a four-point shot in basketball - you're down a little bit, you make a couple of those, and all of a sudden it gets very interesting. I know we need to condense it somewhat, but this is a little extreme. I'm not a fan of it. I would really like to see a third set, just for the conditioning and what players need to do mentally. Long haul, I think it's just more true to the game of tennis. I thought no-ad doubles worked really well, and I don't think we need 10 minutes between doubles and singles, five minutes is fine, and you hold the fans, and that seems better.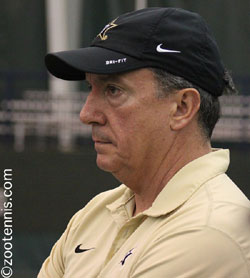 The no-warmup, I worry about. It's fine indoors, but when you get outside and it's cold, I worry about shoulders, elbows and wrists - you get hurt more when it's cold and you're hitting balls. A really punctual well-run three-minute warmup is fine.
When I was in college we played no-ad, and I liked it. It's preferable to this. I know we have to experiment, and I think it's neat to do it during the indoor season, but it's not something where I'm going to say, wow, this is great. I like innovation, but the nature of tennis is that it's a longer game.
I know that some of this is driven by TV. We had ESPN coming into Southeastern conference coaches' meetings and they said this is a really hard sport to film. Because of the format and six courts, it's really, really difficult. So I would like to see them go back to what we had with the eight-game pro set in doubles, and look at no-ad as a way to speed it [doubles] up.