Who's Hot?
Prince Hot 100 List - May '14
by Amelia Thomas, 19 May 2014
April presents a challenge for many junior players. The end of the semester means final projects, exams and papers - and less training time overall. The best of the best, however, still manage to get out on the courts to work on their game. We recognize a few of these players in this month's Prince Hot 100 Lists.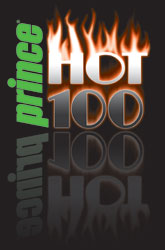 The Prince Hot 100 lists are published each month, and the May Hot 100 lists feature the one hundred boys and girls who most improved their rankings during the month of April. You can find out more about the Prince Hot 100 - and how the lists are calculated - by reading here.
The latest lists, published last week, are available here:
Let's take a look at a few of these players...
Roundup
Sam Dern (Boca Raton, Fla.)
Four-star sophomore Sam Dern recently made many changes to his game. His new coach, Morris Brown, was the catalyst for this change when Dern began training with him a year ago.
"Sam started working with Morris, who changed almost everything with regard to Sam's training and approach to his game," his parents, Karen and Mark Dern, said.
"Over the last year, Sam has worked really hard, both on and off the court, and he has started to see the benefits of all of his hard work. There is no short cut to improving - it is a long process and one that Sam is thoroughly enjoying."
Dern has been working on developing a more aggressive game. "I'm working on playing a more aggressive, opportunistic style that features a strong serve and the ability to finish coming forward, an area of my game that I've worked extremely hard on," he said.
The Boca Raton, Florida, native names his backhand as his biggest strength. "I would describe my game as aggressive from the baseline, always looking to finish at the net," he said. "My backhand is my most reliable shot, although when I'm hitting my forehand, I think it is my biggest weapon."
Dern believes that his competitive energy distinguishes him from his peers. "I've always been a fighter, but I have more motivation now than ever," he said. "I'm seeing some real improvement and success as I move out of the 16s and into the 18s, and I really appreciate the success I'm having."
Dern's parents recognize their son's competitive nature as an advantage as well. "Sam has always competed well, even when his skills were not as strong as his desire to win," they said. "Now, his skills are matching his steely determination, and he is winning tough matches more often."
All these factors came together for Dern last month, and he demonstrated them in a match at the Palm Beach Gardens Welcome Back Tournament. He faced four-star junior Will Shkrob in the quarterfinals. "Shkrob is a great competitor and somebody I really respect as a player and a person," Dern said.
This was Dern's third match of the day, having played two three-set matches already. Exhausted, he dropped the first set, 6-1. "I started the second set off strong, and the momentum changed in my favor," Dern said. He won the set, 6-1, and the third set tiebreaker, 10-5.
Dern reached the semifinals of this tournament. Also in April, Dern won the Scots Tennis Staying On Top Tournament, earning him a 7-2 record for the month.
Dern puts equal effort into his academics and other extracurriculars. He is in his high school's honor society with a 4.5 GPA. He also writes for his school's newspaper. He hopes to continue to develop both academically and athletically in college.