Commitment Announcement
Tate Allwardt to Vanderbilt
by
Gary Curreri
, 1 July 2014
Tate Allwardt enjoys the challenges that tennis brings.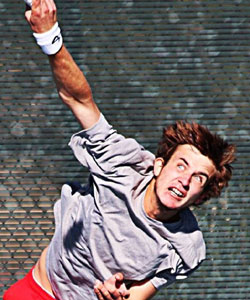 "I really enjoy competing," said Allwardt, 17, of Boca Raton. "I am a very competitive person, and the one-on-one nature of tennis creates an extremely competitive environment.
"That being said," added Allwardt, who recently graduated from Spanish River High School, "one of the biggest challenges tennis presents is that you are all alone out there. Nobody can help you. That can be difficult sometimes, but it also helps you develop as a player and forces you to adapt on your own in difficult situations."
Allwardt, who began playing tennis with his father, Thomas, at the Saddle and Cycle Club in Chicago when he was 6-years-old, tries to stay positive in every match regardless of the score. He said he also tries and keeps his energy level up.
"I just try to stay positive and keep my energy up," said Allwardt, who will attend Vanderbilt University in the fall. "I really try to play one point at a time and have a short-term memory. A short-term memory meaning that I forget about past mistakes and move on, because there is nothing I can do about them."
Allwardt will join another top Florida junior player in Baker Newman of Gulliver Prep at Vanderbilt in the fall. Newman won the Class 2A state title at number two singles and teamed with University of Florida-bound Chase Perez-Blanco to win the overall doubles title. Allwardt is also looking forward to joining Vanderbilt sophomore Ryan Smith, who prepped at nearby Cypress Bay in Weston, just 40 minutes down the road from Boca Raton. Smith defeated Allwardt, 6-4; 3-6; 6-3 for the Class 4A state title at number one singles in 2012.
"I played him two years ago and that was a great match," Allwardt said. "He is a good friend of mine. He's battling there right now, so that would be a lot of fun being there the next two years with him."
Allwardt reunited with Smith during his recruiting trip.