Website Announcement
Tennis Recruiting Welcomes Tennis Express
by TennisRecruiting.net, 23 June 2014
If you've been on the TennisRecruiting.net website the last few days, you may have noticed some changes. We have a brand new online store - with new links and new ads all across the website. And we are pretty excited about this new relationship.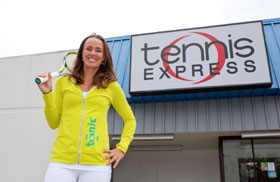 Former World No. 1 Martina Hingis showed off her Tonic Tennis line at a recent Tennis Express event
courtesy, Tennis Express
Tennis Recruiting has partnered with
Tennis Express
, a leading full-service tennis retailer, as our platinum sponsor and online retail partner. Tennis Express provides a fantastic online experience. They offer a wide selection of tennis products at competitive prices - all with superior customer service.
About Tennis Express
Tennis Express has a great selection of tennis equipment, apparel, and shoes, and their state-of-the-art website makes it easy for you to get the information you need. Check out their Buyers' Guide and Racquet Finder, or you can try out a racquet before you buy with their Demo Program. The Tennis Express staff is always coming up with great video product reviews on their YouTube Channel.
There are fun seasonal products available at the Tennis Express website as well. They are all set for the the start of Wimbledon, and their French Open gear is on special. You can keep up your excitement for the World Cup with their Nike futbol stylings.
Tennis Express also offers great prices by passing on discounts from manufacturers. Check out their list of Deals and Promotions on gear from your favorite brands, and save up to 70% off items in their Clearance Center. They also offer Free Shipping and Returns on orders over $75 - and their price matching helps ensure that you always get the best deal around. Use almost any form of payment at checkout: credit card, PayPal, Bill Me Later or Checkout by Amazon.
Finally, Tennis Express offers customer service that is second to none. Their staff gets products shipped quickly, they are courteous and efficient when responding to emails or phone calls. They even have an online representative available to chat live from 7am-9pm on weekdays and from 8am-6pm on Saturday.
Tennis Express is our Platinum Sponsor
We are excited to welcome Tennis Express as our platinum sponsor. Sponsorship is extremely important to Tennis Recruiting - sponsorship revenue is directly responsible for the growth of our website in terms of more and higher-quality content. And as our platinum sponsor and online retail partner, Tennis Express is the most important sponsor of all.
We have all-new links to Tennis Express products and pages all across the website - making it easy for you to check out their gear. So, when you see a Tennis Express banner ad or link that catches your eye, give it a look. When you are considering making a tennis-related purchase online, we encourage you to click through from our website to Tennis Express.
Purchasing online from Tennis Express directly supports Tennis Recruiting. We hope that you will give Tennis Express a chance to earn your business.
Leave a Comment
More Website News
18-Sep-2017
Star Ratings - 2017-18 Fall Edition
After months of waiting, here they are... the Star Ratings. Find out right now how many stars you have - as The Tennis Recruiting Network proudly presents the Fall Star Ratings for 2017-18.
31-Aug-2017
Farewell 2017 Class
The Tennis Recruiting Network bids farewell to the high school class of 2017. This week's rankings are our final edition of the 2016-17 year - and the final rankings for the outgoing Class of 2017.
14-Aug-2017
Championship Week
The USTA National Championships have now concluded - and gold balls have been awarded to your latest national champions. All week long, TennisRecruiting.net and Van Der Meer Academy celebrate these winners - from the East Coast to the West Coast - with coverage of the Nationals. Enjoy the 2017 edition of Championship Week.