Clay Court Championship Week
McNally Continues Hot 2014 at 16s Clays
by
Gary Curreri
, 24 July 2014
It has been quite a run for John McNally.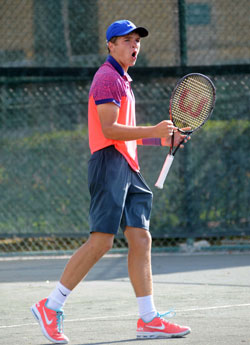 The talented teen from Cincinnati, Ohio swept through his competition at the USTA Boys' 16 Clay Court National Championships in Delray Beach, Florida by not losing a set all week and captured the third gold ball of his career with a 6-2; 6-2 victory over San Diego, California's
Jacob Brumm
.
McNally, 15, a sophomore at Madeira High School, said there was no pressure on him despite being the number one seed in the tournament. With his victory, McNally improved to 57-1 this year. He is the top-ranked player in the country.
"This year has been so unbelievable," said McNally, who started off the year 52-0 before falling to Connor Hance, 6-4; 7-5 in the Intersectional. He avenged that defeat with a 6-2; 6-3 win in the semifinals. "I played him (yesterday) and I beat him pretty bad. He played very well (at the intersectional). I didn't play my best match, but he is a great player. It was just one of those matches, everybody loses.
"(That loss) helped me a lot," McNally said. "I knew what to do. I learned from that match because I had chances to win and I just did what I didn't do in that match and it worked out really well. I took care of business. This is a pretty big win."
McNally won the last three games of the first set to win 6-2 over Brumm. McNally wouldn't divulge his strategy against Brumm, however he was pleased with the results.
"A magician can't give away all of his secrets," McNally said with a laugh. "I obviously had a game plan coming in and I executed it and it worked. It went well."
He seized the first set with an ace and that momentum carried him to a 4-0 lead in the second. McNally had a chance to go up 5-0 in the second before Brumm battled back to hold serve at 4-1. McNally held serve and had match point before he broke a string and failed to break Brumm. He came back to close out the match and win his first gold ball since December 2012 when he won in the 14s at Tucson in singles and doubles.
"It's been a long time since I won a gold ball, and it feels so good to do it and win another one," said McNally, who has also won both the USTA National Spring Tournament (Easter Bowl), USTA International Spring Championships in Boys' 16s and the USTA National Selection Tournament and USTA Midwest Level 1 Outdoor Closed Championships in the Boys 18s draws.