Tournament Summary
Southern California Junior Sectionals Wrapup
by Keith Kropp, 4 July 2014
Hundreds of the best junior tennis players in Southern California gathered at Fountain Valley, Calif., and other nearby venues last week to compete in the 112th annual Southern California Junior Sectionals. After Sunday's final day of competition, one talented star added to her impressive resume, while several others also tasted victory at this prestigious tournament.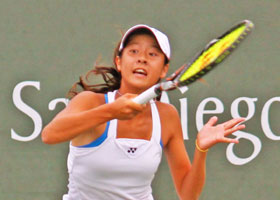 Top-seeded
Ena Shibahara
of Rancho Palos Verdes, Calif., a hard-hitting 16-year-old, came to Junior Sectionals having been eliminated early in several of her more recent high-profile tournaments. But the rising junior from Peninsula High had her game in top form beginning with her first match, and she capped off a brilliant performance by capturing the Girls 18 singles championship at Los Caballeros Racquet & Sports Club.
Three other No. 1 seeds also won singles championships at this tournament that attracted 1,214 players who battled over eight days starting June 21. Two of them were in the 14 and unders, where Robert Baylon of Buena Park, Calif., did not drop a set over his six matches in the boys division and Taylor Johnson of Redondo Beach, Calif., who was equally dominant in taking the girls title.
The other top seed to emerge victorious was Amanda Chan of Pasadena, Calif., who whitewashed four opponents by 6-0, 6-0 scores en route to earning the Girls 12 singles title.
This year's Southern California Junior Sectionals also saw an unseeded player take home a title in the Boys 18 singles division. Kalman Boyd of Rancho Sante Fe, Calif., a rising senior who has verbally committed to play collegiately for 2014 men's Division I champion USC, earned the championship with a 7-5, 6-2 victory over No. 6 seed Reese Stalder of Costa Mesa in Sunday's final.
For Shibahara, her Girls 18 singles title is her second in a row at the Level 3 National event. The top-ranked Southern California girl in the 18s dropped only 13 games in her first five matches, but she was fully tested in Sunday's final by Kayla Day of Santa Barbara, SoCal's No. 1-ranked player in the 16s.