Commitment Profile
Countdown: Marie Norris Picks TCU
by James Hill, 30 October 2014
Marie Norris, a five-star recruit from Burdett, Kan., has given a verbal commitment to become a member of the Texas Christian University women's tennis team next fall.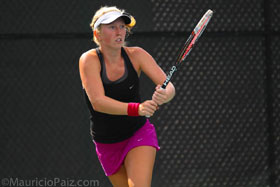 Norris, who has been a Blue Chip recruit throughout her high school career and ranked among the nation's Top 10, will take her two-handed backhand and aggressive style to the Horned Frogs team, which is a member of the Big 12 Conference. In August, Norris made her commitment to first-year head coach Lee Taylor Walker.
"I took a visit while I was in Fort Worth," Norris said. "I knew it was the place for me. The coaches and the campus were all perfect. I thought about waiting until later in the fall to commit, but I met with Coach Lee a few weeks after my visit. I decided there was no point in waiting, since I already made my decision."
Norris also considered the University of North Carolina, but, stating that "deciding between these two was hard enough," she will sign the National Letter of Intent in November.
Walker was appointed head coach of TCU last June after spending the previous seven years at Memphis. He guided the Lady Tigers to their first NCAA Division I Tournament appearance and victory while compiling a 39-match home winning streak. His assistant coach at TCU is Ben Stapp.
The 17-year-old Norris was born in Laguna Hills, Calif., but the family moved to Kansas when she was 5. Marie now lives in Boca Raton, Fla., for training purposes, but she maintains her Kansas address. She studies online with the Florida Virtual School (since the seventh grade), which affords her the opportunity to train in Boca Raton with Sarah Stone.
A native of Australia, Stone is a veteran player and coach. She is currently the traveling coach of Alexa Glatch. Stone also coached Samantha Stosur, who was her doubles partner at the Australian Open and WTA events. Other players under Stone's tutelage were Romina Oprandi and Vasilisa Bardina.
Stone has worked with Norris for the last one-and-a-half years, and she has been impressed with her charge's work ethic and determination.
"Marie is an incredible competitor," Stone said. "It's unusual to see a junior player with such tenacity. She is a wise player for her young age, much like the strengths of Martina Hingis. She understands how to play the game very well. I believe Marie has what it takes to be an NCAA singles champion."