Tournament Summary
Unseeded Jasika, Bouzkova Capture US Open Junior Titles
by
Colette Lewis
, 12 September 2014
Marin Cilic was undoubtedly a surprise winner of the US Open men's title, but he was seeded, even if at No. 14 he was the lowest seed since Pete Sampras at 17, back in 2002. Australia's Omar Jasika of Australia, who defeated No. 5 seed Quentin Halys of France 2-6, 7-5, 6-1 in the boys final, and the Czech Republic's Marie Bouzkova, who downed No. 9 seed Anhelina Kalinina of Ukraine 6-4, 7-6(5) for the girls championship, both won US Open junior titles last week despite being unseeded and ranked outside the Top 30.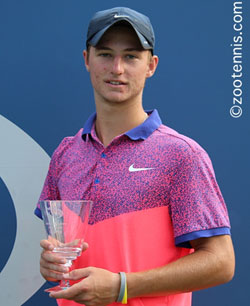 The upsets began in the second round of the junior tournament, which was played in the worse heat and humidity of the New York summer, with the heat index reaching in the upper 90s on several days.
Girls No. 1 seed CiCi Bellis, who had beaten No. 12 seed Dominika Cibulkova in the first round of the women's tournament the previous week, and No. 2 seed and Wimbledon girls champion Jelena Ostapenko of Latvia were upset in their second round matches, as was No. 2 seed Orlando Luz of Brazil on the boys side.
Top seed Andrey Rublev of Russia survived until the quarterfinals, where he lost a grueling three-setter to No. 6 seed Francis Tiafoe, clawing back from a 6-1 5-1 deficit only to go out 6-1, 5-7, 6-4.
Tiafoe then lost a deciding third-set tiebreaker to Halys in the semifinals, despite having two match points late in the third set, while Jasika, who had upset No. 3 seed Jared Donaldson 6-4, 6-3 in the third round, reached the final when unseeded Jan Choinski of Germany retired down 6-3, 4-1 with a heat-related illness.
Halys was favored in the final, as the European champion had reached the semifinals of both the Australian and French junior championships this year, while Jasika had never been past the third round at a junior slam.
Halys looked to be living up to his role as favorite, taking the first set quickly on show court 17, and earning a 2-0 lead in the second set.
Jasika got the break back, and took a 3-2 lead with help from the large crowd who wanted to see more tennis before they entered Ashe Stadium for the women's final. That desire seemed likely to be thwarted when, at 4-all, Jasika double faulted twice and missed a drop shot to get broken at love. Less than an hour into the match, Halys was serving for it, but three netted backhands and a wild forehand error later, and suddenly the set was even at 5-5.