Where Are They Now?
NCAA Champion Nicole Gibbs Moves Up
by
Colette Lewis
, 26 September 2014
Nicole Gibbs won her first ITF Women's Circuit title at the age of 14, yet pursuing a professional tennis career without first attending college never appealed to her. The former Ohio resident, who moved to Southern California early in her illustrious junior career, finished high school a year early and joined the Stanford Cardinal in the fall of 2010.
Nicole Gibbs in her third-round US Open match
© Susan Mullane,
camerawork usa
Gibbs reached the semifinals of the NCAA singles tournament in her
freshman year
, then won both the
NCAA singles and doubles titles
(with Mallory Burdette) as a sophomore. Returning for her junior year with the goal of an NCAA team title, Gibbs led the 12th-seeded Cardinal to their
17th team title
, adding a
second singles championship
six days later.
Still just 20, Gibbs elected to forego her senior year and begin her professional career. She spent most of her first 12 months as a professional ranked between 160 and 200, but showed encouraging signs of moving higher this summer. After winning the USTA's wild card challenge in July, Gibbs made her third appearance in the US Open main draw, picking up her first slam win over France's Caroline Garcia in the first round. After defeating No. 23 seed Anastasia Pavlyuchenkova of Russia in the second round, Gibbs played her third round match against No. 11 seed Flavia Pennetta of Italy on Arthur Ashe Stadium. Although she lost 6-4, 6-0, Gibbs' two wins pushed her closer to the Top 100, and with her first WTA quarterfinal appearance in Korea last week, she reached it, coming in this week at 92.
After her loss to Pennetta, I spoke with Gibbs about her first 15 months as a professional, her recent surge, her experiences in college and on the tour, the proposed NCAA format changes and her advice for those in the midst of the recruiting process.
Questions and Answers
Colette Lewis (CL): The last time we spoke in New York, you had just reached the semifinals of the junior championships in 2011. What has been the highlight of the past three years?
Nicole Gibbs (NG): At that time, I think I'd just lost in the semis of the NCAAs. A lot has changed. I've gotten a few NCAA titles under my belt, individually, but most importantly with the team. That was huge for me and definitely what I wanted in coming back for my junior year after winning titles in singles and doubles [the previous year]. I was really, really happy to leave Stanford on a high note.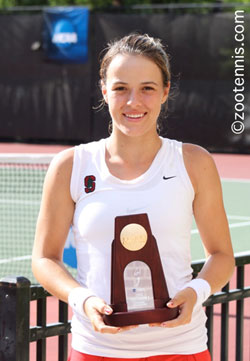 Gibbs won her first NCAA singles title in 2012
©
ZooTennis
CL: How has your first full year as a pro been?
NG: Tennis is such a game of highs and lows, and for the first year I feel I probably experienced more lows than highs in terms of my performance on tour. I'm finally feeling that change a little bit. I definitely don't want to ride the high too much, but I'm definitely hoping for more positive results.
CL: Which coaches are you training with now?
NG: I'm working with Roger Anderson at the USTA, and when I'm home, I'm working with some private coaches in Brentwood, Arun Jetli and David Paradzik, who I grew up working with in Cleveland. And I hit at Carson [the USTA's High Performance Center] too. It's kind of crazy, but I'm doing a lot of everything.