Tournament Summary
Kingsley, Mmoh Claim ITF Pan American Closed Titles
by
Colette Lewis
, 16 October 2014
Raveena Kingsley and Michael Mmoh took entirely different routes, yet both emerged as champions at last week's ITF Grade B1 Pan American Closed in Tulsa, Oklahoma. No. 3 seed Kingsley, who defeated unseeded Claire Liu 6-1, 6-4 in the final, lost only one set in her six victories, while top seed Mmoh saved match points in the quarterfinals before taking the title with a 7-5, 6-3 win over No. 9 seed William Blumberg.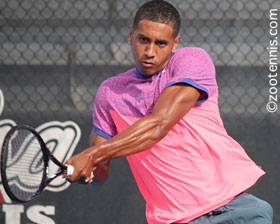 The first round of the tournament, held at the
Michael D. Case Tennis Center
on the
University of Tulsa
campus, produced one big upset and a close call for Mmoh, who trailed a set and 3-0 to
Nathan Perrone
before securing a 4-6, 6-3, 6-1 victory. Under the lights that evening, No. 2 seed
Sofia Kenin
was ousted by
Maria Mateas
6-4, 6-2, leaving No. 4 seed
Katie Swan
of Great Britain the top seed left in the bottom half.
Swan fell to No. 15 seed Emma Higuchi in the third round, and top seed Renata Zarazua of Mexico was beaten by No. 7 seed Michaela Gordon in the quarterfinals, the last round played in the summer-like heat, with rain forcing the semifinals and finals of both singles and doubles indoors.
In his three-hour 18-minute 7-5, 5-7, 7-6(4) quarterfinal victory over No. 10 seed Tommy Paul, Mmoh was receiving serve with Paul up 5-4, 40-15 in the third set. A double fault and a forehand just long brought the score back to deuce, with Mmoh winning the next two points and the subsequent tiebreaker to advance to the semifinal against No. 3 seed Sameer Kumar. Once again Mmoh trailed, down a set and a break to Kumar, but he rallied again, this time for a 3-6, 7-5, 6-1 win.
Blumberg, a member, along with Mmoh, of the Junior Davis Cup team that won the world 16-and-under title for the US in September, earned his place in the final with the loss of only one set, to No. 7 seed Kalman Boyd in the semifinal. Boyd had beaten No. 2 seed and 2013 finalist Taylor Fritz 0-6, 7-5, 6-2 in the quarterfinals.
In their most recent meeting, back in 2012, Blumberg had beaten Mmoh, who had held two match points in their Les Petits As semifinal. Blumberg was the player dealing with the what-ifs this time, as he was serving at 5-4, 40-0 in the first set of the final, only to see Mmoh win the next five points to even the match.