Special Feature
An interview with Nick Saviano
by
Colette Lewis
, 9 January 2015
Although long considered one of the top developmental coaches in the world, 58-year-old Nick Saviano did not vault into the limelight until 2014, when he became the tour coach for Canadian Eugenie Bouchard. Saviano had worked with Bouchard regularly since she first began training at his Academy in Florida at age 12, and their partnership last year saw the now 20-year-old from Montreal reach the semifinals at the Australian and French Opens and the final at Wimbledon. She ended the year No. 7 in the WTA rankings, up from 32 the previous year.
High-performance Tennis Coach Nick Saviano
©
Zoo Tennis
Saviano and Bouchard have since parted ways, with Saviano now coaching Sloane Stephens, another young player Saviano has worked with for many years at his academy,
Saviano High Performance Tennis
, currently located at the Veltri Tennis Center in Plantation, Florida.
A two-time All-American at Stanford, which won NCAA team titles in 1973 and 1974, his freshman and sophomore years, Saviano then turned pro and spent eight and a half years on the ATP tour, winning one singles and three doubles titles and reaching a high of 48 in the rankings.
After retiring at age 28, Saviano began his coaching career, working with the USTA as a national coach, director of coaching for men's tennis and director of coaching education and sports science. He left the USTA in 2002, after 15 years, to start his own academy, where he can still be found feeding balls to eight-year-olds with grand slam dreams.
While in Florida last month, I sat down with Saviano to talk about his coaching philosophy, why he is now coaching at the tour level, how that differs from developmental coaching, and many other topics.
Questions and Answers
Colette Lewis (CL): How has coaching changed in the three decades you've been involved in it?
Nick Saviano (NS): Coaching has fundamentally not changed very much at the core. If you're talking about the specifics of what you coach on a court because the game has changed, yes, but the value system should not change. At the center and core of my philosophy is that when you work with a young person, it's a sacred trust. It's a sacred trust to the young person and it's a sacred trust to the parents. That has not changed in the past 20 years and I don't believe that should change in the next 100 years.
From that other fundamental principles emanate. I personally have to be committed to excellence, try to provide the highest quality of information, and do only what is fundamentally in the best interest of the child.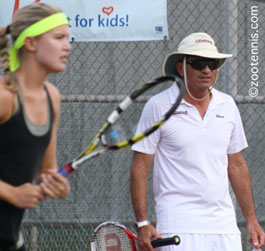 Saviano with Eugenie Bouchard in 2013
©
Zoo Tennis
I've been blessed to be able to work with many talented, outstanding people in a multitude of ways. I feel fortunate, and I think one of the reasons I have so many long-term relationships - I'm still close to people like Jim Courier and Justin Gimelstob, and even more recently, some of the young gals I've worked with since they were young - is that there's a trust, and people know that I'm going to try to do the right thing first and foremost.
From a business component, that will long term turn out to be a good move anyway. It's not always easy to do that, but you have to have the courage of your convictions to try to do the right things.
CL: What are your thoughts on all the celebrity coaches, players who have been grand slam champions, coming back to coach?
NS: The fact that players who were all time greats are choosing to get into coaching I think is wonderful. I take a backseat in coaching to no one. I also don't put myself in front of people either. In other words, I don't look at somebody and say, 'oh, they were ranked higher than me, therefore they're a better coach.' Conversely, I don't look at somebody who wasn't a world-class player, like I was for nine years, and say, 'they can't coach.'
Now, if one looks at the greatest coaches of all times, in every single sport, in all of the arts, music - generally speaking, you would find an interesting list, and it usually doesn't include a lot of all-time great performers. That's not to say any of them couldn't be, but for whatever reason, there are a lot of coaches who achieve tremendous things that weren't great players.
There's not a direct correlation between being a great player and a great coach, nor does that discredit somebody from that. However, what is required, if you're working with younger people, is a skill set. You have to understand the developmental stages. For a great player to work with an outstanding, world-class player that doesn't really need that much development, but possibly needs some guidance, or confidence, or a couple of thoughts, strategically or tactically, clearly these people have much to offer. I have tremendous respect for all those people and I think it's wonderful that they're in the game.
Saviano has worked with Stephens for many years
©
Zoo Tennis
CL: How does the developmental side of coaching differ from tour coaching?
NS: For me, coaching on the tour is almost like stealing candy from a baby. When I say that, it's stressful in that there are other challenges, but a lot of the stuff is not esoteric. These players are skilled, they're talented, they're athletic, a lot of times they need simple adjustments to help get them over the top. Developing a talent is far, far different than going with someone who has won six or seven grand slam titles and decides they need a new voice. I'm amused by people who say that someone who has won six grand slams needs someone to help them win the big matches. I'm sorry, but that train has already left. If you've won five, six grand slams, a Davis Cup, I think they understand. However, it doesn't mean having a new voice isn't going to be helpful, absolutely.
I've been fortunate enough to work with young players who aren't that advanced, all the way up to great players. I've been blessed to be on the court with players when they were No. 1 and winning multiple grand slams. I've been blessed to work with people when they were younger who went on to win grand slams. But for me, personally, in my life, I came off the tour the day my daughter was born.
The lifestyle, for me personally, wasn't conducive to raising a family and being married the way I wanted to. So I turned down a lot of great players. I turned down Capriati when she was the hottest item in the world; clearly she was going to win a grand slam title. I turned down Courier when he was 19 years old and the hottest player in the world. I've turned down many players since then. When you have that kind of talent already there, it's not the same as starting with someone at 10, 11 and working their way up.