Commitment Profile
Countdown: Yangeng Jiang Continues Journey at Bowdoin
by Todd Holcomb, 1 April 2015
Few tennis players in the class of 2015 have traveled a longer road to becoming a four-star recruit than Yangeng Jiang of Pennington, N.J.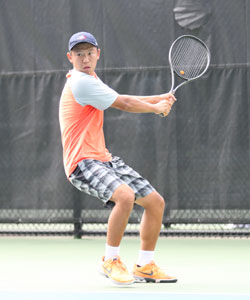 The story of Yangeng - who recently committed to academically renowned Division III school
Bowdoin College
in Brunswick, Maine - begins in his native China, where he was a promising junior tennis player in a country that is only recently making an impact on the sport worldwide.
"In China, you have to make a decision by about 13 and 14," Yangeng said. "We start school at 7 [in the morning] and end at 5. Kids in China have to turn professional and not go to school anymore and practice six hours a day. It's tough for kids in China. There's only one Li Na."
Na, of course, is the retired WTA Tour professional who was the first Asian to win a grand slam singles title - the French Open in 2011 and the Australian Open in 2014. Her fame has sparked growth in the sport at the grass-roots levels, but tennis courts and training facilities remain relatively scarce, and there are only about six or seven national-level tournaments for junior players.
Yangeng's solution to his tennis and academic dilemma was to come to America. Yangeng (who is goes by the first name of Jerry) attends the Pennington School in New Jersey on a student visa. In the United States, Yangeng can play tennis and attend a strong school with hopes of continuing tennis in college.
But there was one more problem - Yangeng wasn't old enough to drive when he got here. So the only tennis Yangeng played as a freshman and sophomore was for the high school team and during summers back in China.
To alleviate that, his mother, Hui Zhao, came to the United States to be with her son for his junior year of high school. She drove him to tournaments and to local facilities that gave Yangeng some training and sparring partners.