Commitment Profile
Countdown: Toledo Commits to Iowa State
by
Gary Curreri
, 2 April 2015
It didn't take long for Davie's Claudia Toledo to settle on a college destination to further her tennis career.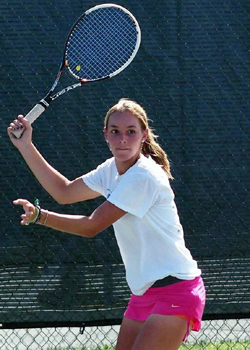 Toledo decided on
Iowa State University
after just one visit in early November. She opted not to go to
Ball State
or
St. Bonaventure
, which were the other schools she considered during the recruiting process.
"I instantly connected with both coaches (head coach Armando Espinosa and assistant coach Chris Williams) as well as loving both the school, and the tennis program, and their drive to build my game," said Toledo, who plans to study English or education. "Tennis has played a role in how important a teacher really can be in someone's life, to guide them and show them new opportunities."
The 18-year-old Toledo currently is completing her online classes and is looking forward to becoming a Cyclone in the fall. She got to meet the college team and watch the Cyclones basketball game, as well as tour the school, meet with different program advisors, and get to watch the fitness session take place.
The Florida native realizes the climate could be an issue. Toledo, who trains with Layne Hollander at the Frank Veltri Tennis Center as well as at the Saviano High Performance Tennis in Plantation, is currently ranked 124th in the nation and 22nd in Florida.
"I am so nervous about the cold," Toledo said. "I haven't been in weather under 40 degrees, so this new life should be quite interesting, but I can't wait for something new."
Toledo didn't play other sports while growing up.
"I really like the independence of tennis, and how you rely on only yourself out on the court," Toledo said. "I think it prepares you for life and the hardships you will face. I love the sport of tennis, and the mental toughness it gives you to get over some of the biggest challenges in life. It teaches focus, as well as a way to live in the moment, or 'in the point.'"
When Toledo is on the court, she tries to focus on components of her game that would help her compete at a high level.