Where Are They Now?
Catching Up with Gator Great Lauren Embree
by
Colette Lewis
, 13 February 2015
Lauren Embree had one of the most successful collegiate careers in the University of Florida's storied tennis history, leading the Gators to back-to-back NCAA titles in 2011 and 2012 as the team tournament's Most Outstanding Player, while posting a career singles record of 117-16 during her four years in Gainesville.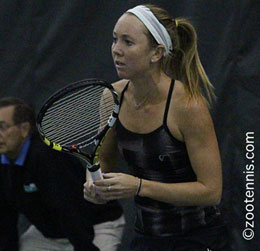 The 24-year-old from Marco Island Florida went undefeated (38-0) in SEC singles competition during her career, and is the only woman in conference history to be named SEC Player of the Year three times. In 2013, the five-time All-American finished her senior year No. 1 in the ITA national rankings, but an injury late that year, which resulted in hip surgery, kept her from a smooth transition to the professional circuit.
After rehab, and a stint as an assistant at Florida while she completed her degree in sports management, Embree resumed her professional career on the ITF Women's Circuit in Europe. Last fall she reached the finals of two $25,000 tournaments in the United States, and has earned a career-high WTA ranking of 335. Now living in Santa Monica, California and working with former UCLA volunteer assistant Laura Gordon, Embree has begun the year on the USTA Pro Circuit, where she has competed in four tournaments in the past month.
At the $100,000 Dow Corning Tennis Classic in Midland, Mich., last week, I spoke with her about her return from injury, what she misses about college tennis, and her goals for 2015 and beyond.
Questions and Answers
Colette Lewis (CL): Are you happy with your progress since you've come back from the injury?
Lauren Embree (LE): I am definitely happy with where I am overall, as a person. My mindset is definitely different than what it was when I finished school. I was a little bit unsure about what I wanted to do and if this was what I wanted to do, and then I got hurt, and it really kind of put things in perspective for me a little bit. I just changed my mindset about everything.
I had what I think was a pretty good mindset going out of college, but getting hurt made me realize that this is what I really want to do. So overall, I'm pretty happy with where I am now, as opposed to where I was last spring with my injuries and some personal things, when things weren't looking great for me at the time. But now they're a lot better and I'm happy.
CL: I know you had two wrist surgeries while you were at Florida. Is that an issue at all?
LE: No, no problems with my wrist.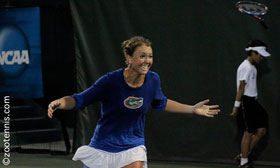 CL: And when did you realize you would need hip surgery?
LE: My right hip was giving me trouble, and then I was out in Los Angeles for the [USTA] college camp last December, and that's when it really just kind of tore. But it's fine now.
CL: Have you recovered psychologically from that?
LE: When I first got back, it was really difficult to try to move to one side, be explosive, because I was always trying to make sure it wasn't going to rip again. But they said, listen, that's not going to happen again. We repaired it, you're going to be fine. So it was just trusting myself and just doing it. So that took a little bit to be back playing comfortably and 100 percent. But I feel like I'm back to 100 percent now.
CL: How did you end up with a wild card into this tournament?
LE: I did not apply for a wild card into any tournaments, actually, even the [$]25s, I was just going to try to go through qualifying. And I came up here, thinking I was in qualifying, and the USTA called me and asked me if I wanted a wild card, and I said sure, why not? I haven't taken one and it's a good opportunity. I had heard so many good things about the tournament. Inside, it's obviously not my best surface, but I've got nothing to lose, so I just decided to take it.