Special from
Division3Tennis.com
Hey all! It's been crazy times at Tennis Recruiting with the Countdown to Signing Day and eventually Signing Week, so you all haven't seen much of us lately on this site. However, this doesn't mean there haven't been a lot of happenings in D-III tennis during this time, as we have been hitting the peak time of the tennis season. There have been a ton of great stories this year that we have to share with you. We've brought together four of our dedicated D-III writers - three men's and one women's - to bring you all the updates on this year's season. I hope you enjoy our "D-III Roundtable" and come visit us at Division3Tennis.com as we start to head into the postseason. We have Bracketology, Conference Previews, Power Rankings, and much more!
In this article, we have come up with four questions that will hopefully give you a great idea of what is going on in Division III Tennis at this very moment. I have brought along three of my favorite writers -
D3Northeast
(Men's),
D3Central
(Men's), and
D3Northeast Women's
to help me answer some questions about the amazing 2014-2015 season. Let's get to it!
Q) Writers, who has been both your surprise team and surprise individual performer this year, and why?
D3AtlanticSouth: Hi there folks! On the men's side, the biggest surprise this year has to be the Pomona Pitzer Sagehens. Pomona had been a perennial Top 15 team going into this season, but they had never reached the Top 5 in the years I can remember. They are blessed with a ton of talent, great weather, and a beautiful campus, but breaking into the Top 5 is tough! This year has been an amazing year for the Sagehens, as they have already notched five wins within the Top 10 and countless more within the Top 20. This has put them at #2 in the nation right behind their crosstown rival, CMS (more on them later). To note, division3tennis.com had the Sagehens' Power Ranking at around #6-8 going into the season. What a year it's been so far for Pomona!
In terms of individuals, I'm going to throw some love to Mohanad Al-Houni of Gustavus Adolphus College. The freshman all the way from Libya started the year losing to none other than his older brother, Motasem, in the ITA tournament. He began the year at No. 3 singles, but he has improved his game throughout the season and now currently plays No. 1 singles for the Gusties! If there were any doubts about his readiness, Al-Houni silenced them this past week by upsetting Nicholas Chua of Chicago University, who had won the Fall Nationals tournament and was Tennis Recruiting's highest ranked D-III recruit coming into this year. Al-Houni has now become a permanent lock at No. 1 singles, and it will be great to see what he can do here on out at the top spot.
D3NortheastWomen's: On the women's side, I'd have to say that Washington & Lee has been my surprise team. They pretty much have the same roster as last year, but they have gotten a couple of key wins over No. 7 Carnegie Mellon (5-4) and No. 6 Johns Hopkins (5-4) in the last month to propel themselves up to No. 5 nationally. Their success is probably attributed to their senior laden team and the leadership and sense of urgency that they inevitably bring.
Individually, I'm going to mention Ashnaa Rao from Johns Hopkins, Maria Pylypiv from
Williams
, and Rebecca Ho from
Washington University in St. Louis
as my surprise performers. All of these players are currently dominant No. 1s for their respective teams, yet did not play No. 1 last year. Rao played No. 3, Pylypiv played No. 4, and Ho played No. 2. No doubt these players worked very hard in the off season to be able to come back to their teams at another level of play.
Q) Who is the current front-runner for the NCAA Championship in D-III - both for team play and individual play?
D3Northeast: On the men's side of D-III, the Claremont-Mudd-Scripps Stags are the clear favorites to hoist the trophy in May. CMS is far and away the most talented team in the country, and they have five starters from last year's team that made it all the way to the NCAA finals. Three of the Stags' vaunted top-4 players are seniors, and that alone can carry a team a long ways. The Stags have already notched wins over the No. 3 (twice), No. 5, No. 6, No. 11, No. 14, No. 16, No. 17, and No. 20 teams. But what's truly amazing is that only one of those matches has been closer than 7-2. That's right, there has only been one D-III team that has gotten three points off of CMS this year. The Stags have barely been pushed this year, and they are 100% the favorites headed into tournament time. They will likely have a tough region and have to beat Pomona (No. 3 in the country) to even make the Quarterfinals, but I'm not sure anyone can stand in CMS's way this year.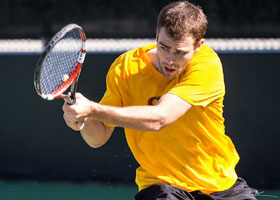 As D-III's depth continues to grow, more and more players are serious contenders to win an NCAA Individual Championship. However. there are a few favorites to take home the hardware from either the singles or the doubles tournaments. CJ Krimbill of
Case Western Reserve University
and Warren Wood of CMS would likely be the consensus favorites in the singles draw, while Aaron Revzin & Michael Solimano from
Amherst
and Wood & partner Joe Dorn from CMS both have good shots to win it all. A quick review shows us that Warren Wood has a real opportunity to pull off one of the rarest feats in D-III tennis, the triple crown! Last completed in 2007, the triple crown is the pinnacle of the sport. Joey Fritz from Amherst came within two matches of the achievement last year, but he fell short in the doubles semifinals. When May arrives, the D-III tennis world will be watching Warren with baited breath.