Special Feature
An Interview with Martin Blackman, General Manager USTA Player Development
by
Colette Lewis
, 26 June 2015
If there are hats Martin Blackman hasn't worn in his decades associated with the sport of tennis, they'd be difficult to spot. Named General Manager of USTA Player Development in April, Blackman has a resume that includes experience as player, coach and administrator.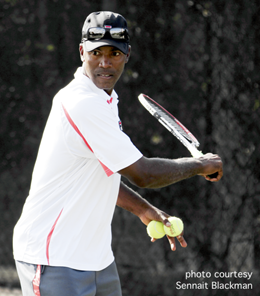 Martin Blackman was named General Manager of USTA Player Development
courtesy, Sennait Blackman
The 45-year-old, who grew up in New York and Barbados, was given a scholarship to the
Bollettieri Academy
as a teenager. After a distinguished junior career, which included a 16s title at
Kalamazoo
, Blackman spent two years at
Stanford
before leaving to play professionally. Blackman played on the tour for seven years, with 158 his highest ATP ranking, then returned to finish his degree at George Washington University.
Post-college, Blackman coached men's tennis at American University before taking over as the director of tennis at the Junior Tennis Champions Center in College Park, Maryland. Instrumental in the concept of the USTA's Regional Training Center initiative, Blackman was hired by the USTA in 2009, serving as the Senior Director of Talent Identification and Development. Blackman left the USTA in 2011 to start his own academy in Boca Raton, where he lives with his wife and his four children, all of whom play tennis.
I spoke with Blackman last week about how he's spent his first weeks on the job, what advice he received from previous General Manager Patrick McEnroe, how Player Development will influence the college and junior realms, what the USTA expects from its Lake Nona project and a host of other topics.
Questions and Answers
Colette Lewis (CL): What have you been doing in your first weeks on the job?
Martin Blackman (MB): This is my third week and the first thing I've been doing is listening and learning. I've been reaching out to a lot of the folks on our staff, our department heads, especially Jay [Berger], Ola [Malmqvist] and Jose [Higueras], but also reaching out a lot to the private sector, the coaches in the field, reaching out a lot to former players, former American champions.
I've been studying a little bit what other federations are doing, studying our systems, the systems we have in place right now. I'm always going to be doing that, I'm always going to be listening and learning, but I think now I'm moving into the next phase, which is trying to engage our staff, our internal PD staff on the system we're going to move forward with, in terms what we do with players that we train directly and how we collaborate with players at home in the private sector.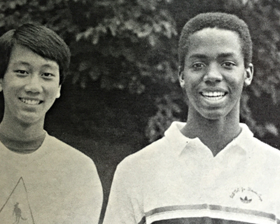 We have a great foundation and a great infrastructure and a lot of tools for how we do that right now. We have a very extensive grant structure, Team USA camps that proliferate throughout the country, the progression through the camps. We give a lot of private lesson grants and a lot of grants to coaches in the field for players to stay at home and keep developing locally. I think now that we have this pathway study, such a great tool, that looks at the progression of Top 100 players, Top 50 players and Top 25 players, we can use that study to fine tune our systems even more, incentivize the behaviors and the development and the tournament scheduling that goes in line with becoming a Top 100 player.
CL: Have you been traveling to the sections? I know Patrick McEnroe was doing a lot of that in the previous year.
MB: I picked up where Patrick left off. Last Monday we did a Team USA open forum in Boston and then Philadelphia on Tuesday. That's something we're going to continue to do on an ongoing basis, that's not going to be stop and start. We're going to constantly do that, in a cycle, to make sure that we get in front of the best coaches in every section on a regular basis. We met with the top high performance coaches in those sections and really asked them to evaluate how the Team USA initiative was going, how was the relationship with the USTA and Player Development, and to let us know what their biggest challenges are in the field and if there's anything we can do to fix or alleviate the challenges they're facing.