College Feature
UCLA Sweeps Titles at American Collegiate Invitational
by
Colette Lewis
, 25 September 2015
The second annual American Collegiate Invitational, held in the final days of the US Open Championships, had more than its share of weather issues and UCLA Bruins. The women's final, with Robin Anderson defeating Chanelle Van Nguyen 6-4, 6-4, was an all-UCLA contest finished indoors, while Mackenzie McDonald managed a 6-2, 7-5 victory in the final over Vanderbilt's Gonzales Austin, the only non-Bruin to reach either final.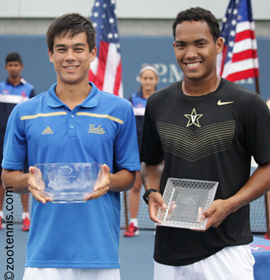 Men's finalists Mackenzie McDonald and Gonzales Austin
©
ZooTennis.com
The tournament, open to collegians from the United States who are in school or have just completed their eligibility, brings eight men and eight women to New York to compete in the single elimination event, providing them with all the perks afforded any US Open participant.
McDonald, a junior at UCLA, had participated in the inaugural American Collegiate Invitational last year, losing in the opening round to Alex Sarkissian of Pepperdine. McDonald, a 20-year-old from Piedmont, California and seeded No. 2 this year, breezed to the final with a 6-1, 6-4 win over Notre Dame senior Quentin Monaghan and a 6-2, 6-2 victory over Virginia junior Thai Kwiatkowski, the No. 3 seed.
The fourth-seeded Austin, a 2015 Vanderbilt graduate, moved past Columbia's Winston Lin in the first round, then outlasted top seed and 2015 NCAA champion Ryan Shane of Virginia 3-6, 7-6(5), 7-6(6) in the semifinals.
Played outdoors on Court 5 and completed before the late afternoon rain set in, the final demonstrated how effective McDonald's revamped serve had been in his three victories.
"I was really happy with how I served today," said McDonald, who made 76 percent of his first serves and faced only one break point, which he saved.
"That's the biggest thing I worked on when I went home [this summer], my serve, and I changed some things," said McDonald, who joined teammate Marcos Giron, the 2014 champion, as an ACI winner. "My back doesn't hurt now when I serve. I didn't see my percentage, but I think I served a really high first serve percentage. I'm extremely happy about that."
Austin agreed McDonald's serve was a key factor in the result.