Tournament Summary
Wild Card Holt Sweeps Boys Titles, Day Wins Girls Singles Championship at ITF Pan American Closed
by
Colette Lewis
, 22 October 2015
Southern Californians Brandon Holt and Kayla Day undoubtedly felt at home with the weather for the ITF Grade B1 Pan American Closed Championships last week in Tulsa, Oklahoma. With cloudless skies and warm temperatures providing an ideal backdrop, Holt and Day rolled into the final weekend. The weather cooled, but the pair stayed hot, with Holt defeating unseeded JJ Wolf 6-1, 6-7(5), 6-0 and No. 2 seed Day downing No. 9 seed Kelly Chen 6-4, 6-1, securing the first ITF Grade 1 titles for both.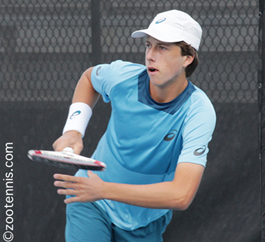 Holt, a wild card, did not lose more than four games in a set until the final, and his 6-0, 6-1 victory over top seed
Benjamin Sigouin
of Canada in the semifinals was a testament to how well the 17-year-old from Rolling Hills was playing.
Wolf had won his first five matches in straight sets, including a 6-4, 6-1 win over No. 2 seed Jack Mingjie Lin of Canada in the quarterfinals. Against No. 7 seed Zeke Clark in the semifinals, Wolf saved a set point in the second set of his 6-1, 7-5 victory over the local favorite to reach his first ITF Grade 1 final.
Holt won the first five games of final, but the score was deceiving, with Holt needing to save break points in each of his first two service games. Wolf was making errors and Holt was avoiding them, but that changed in the second set, despite Wolf going down 2-0 to start.
Breaking back for 2-2, Wolf then took his first lead of the match, holding serve for 3-2 from 15-40 down. Holt, who is usually the picture of composure, berated himself briefly, then held and broke to take a 5-3 lead. With Wolf making more forehands and hitting with more pace, the points offered high quality entertainment, and Wolf held to force Holt to serve for the match. Holt didn't get to match point, with Wolf forcing two errors from 30-all, but he got another chance when Wolf was broken at 5-all. Again Holt couldn't close, and he was broken in one of the quickest games of the match to send the set to a tiebreaker.
Wolf played well to earn a 6-2 lead, but Holt won three straight points to put the pressure back on Wolf. Wolf delivered with a third-shot backhand winner, but if Holt was frustrated by the momentum swing in the match, he didn't show it.
"He played an amazing tiebreaker," said Holt, the son of Scott Holt and two-time US Open women's champion Tracy Austin. "I was a little down on energy, I don't know why, but I guess it makes sense when I didn't serve it out in two chances. I came back to 6-5, but he hit a too-good backhand cross court."
Holt thought back to a time when he might not have handled the situation well.
"Probably three years ago, I would have been really, really mad after that and gone crazy," said Holt, who has verbally committed to the
University of Southern California
. "Not go crazy like throwing my racquet, but go crazy in my head - why am I out here, I had all these chances. But I thought, just come out and play like I did in the first set. Against JJ Wolf, I'm happy to be in the third set any day. He's been playing amazing, a great US Open, and he's a great kid also, amazing sportsmanship."
Holt was able to find that first set form at the beginning of the third, and Wolf was not able to match that level, with the racquet claps and "good shot" compliments that both boys displayed earlier coming mostly from Wolf in the final set.
"I think I kind of caught him by surprise," said Holt, who like Wolf, won a sportsmanship trophy at Kalamazoo this summer. "He thought I may have been more down on myself. But I played well, and I'm happy about that. At 5-0 you may think you have the match under control, but I was still nervous, because I know he's not going to roll over."
Three match points came and went with Wolf serving at 0-5, but the fourth went Holt's way, with Wolf's backhand catching the tape and bouncing wide.
Wolf was disappointed he could not get in front of Holt.
"When he gets up, it's hard to come back," said the 16-year-old from Cincinnati. "He gets more aggressive and more confident. He went after it a little more, and I didn't. It didn't seem to bother him too much, splitting sets after serving for the match. He got an early lead and I couldn't get back in it. I did my best, but I made way too many errors, although he forced a lot of them."
Once Holt secured his first ITF title, he immediately took the court to try for a second in doubles. Playing for the first time with Vasil Kirkov, Holt was a sought-after partner, having reached the US Open boys doubles final in September and won a Futures title early in October, both with Riley Smith.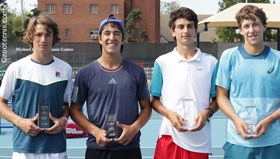 "I was glad I picked up a good partner at the last minute," said Kirkov, who was planning to play with
Sam Riffice
but had to look elsewhere when Riffice was injured during the Junior Davis Cup earlier this month in Spain. "I was really happy that he needed a partner, since he was in the finals of the US Open."