Commitment Announcement
Fall Signing Week '15: Jenna Friedel Heading to Cambridge
by Rhiannon Potkey, 12 November 2015
The initial plan was to make several visits to see colleges.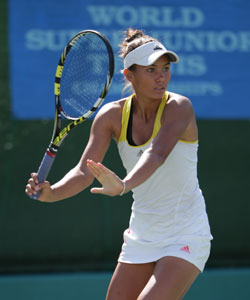 But
Jenna Friedel
canceled the rest of her itinerary after only one stop. She didn't need any more campus tours. The blue chip senior knew
Harvard University
was the one.
"On my visit everything just felt right. The girls were so welcoming to me, and the coaching staff was really supportive of each team member," Friedel said. "I knew right away I wanted to go to school at Harvard."
The Mill Valley, Calif., resident was mainly looking at schools with strong academic credentials. Friedel also considered Penn, Yale and Stanford.
"I wanted to be on the East coast because I have been in California my whole life. We live an hour away from Stanford, and I wanted to broaden my horizons and experience new things," she said. "In my opinion, that is what college is all about. I think there is a different vibe and different mentality on the East coast, and I am actually really excited for snow."
Born and raised in Northern California, Friedel started playing tennis at age 5. Her father is a former Swiss national team skier, and Friedel hit the slopes frequently when she was younger.
"Tennis and skiing were probably my two biggest sports, and I competed on a team called the Mighty Mites in Squaw Valley," she said. "We had to drive four hours from our house to the snow every weekend during the winter. Eventually I came to favor tennis over skiing."
Once Friedel began participating in tournaments, her passion for tennis elevated to an even higher level.
"I just really have a good time competing, and it's just you and the opponent out there," she said. "In skiing you only have one shot downhill, but in tennis you have the ability to pick yourself back up when you fall so to speak. Perseverance is an important aspect of the game, and I enjoy that."