Recruiting Feature
Fall Signing Week '15: National Recruiting Roundup
by Dallas Oliver, 10 November 2015
Signing Week is underway, and tomorrow, senior tennis players will begin signing their National Letters of Intent with Division I and Division II schools. We have been tracking verbal commitments for several months (boys, girls), and throughout the remainder of the week, we will be featuring live commitment announcements from a number of highly-recruited boys and girls.
Today, we hear from seniors around the nation in our National Roundup. We recently talked with a number of senior recruits who plan to sign NLIs during the Fall signing period, which officially begins tomorrow. We asked them about their college choices - and how they reached their decisions.
Here are the athletes we talked with:
Take a look at what they had to say...
Franklin Brozovich (Fort Gratiot, Mich.) to Valparaiso
Four-star senior Franklin Brozovich has been a standout on and off the court at Port Huron Northern High School. In the classroom, Brozovich maintains a 4.0 GPA while taking a rigorous schedule full of AP courses, and he is a member of both the National Honor Society and Student Council. And he has been all-everything on the court, playing No. 1 singles for all four years and earned All-State accolades three years in a row. The No. 7 prospect from the state of Michigan, Brozovich strongly considered Western Michigan, Michigan State, and Xavier, but in the end, he decided to commit to the Valparaiso University Crusaders.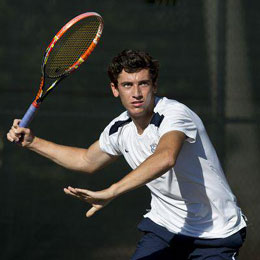 Congratulations on your commitment to Valpo. What factors went into your decision?
I wanted a school with strong academics and smaller class sizes - and a tennis program with solid player development.
Valparaiso has a lot to offer. I liked the size of the campus and how students are able to walk to all of their classes. The school is also constantly upgrading - there were several new buildings when I went on my unofficial visit.
The tennis program at Valparaiso is also very special, and many players who go through the program also improve immensely - development is substantial. The players on the team push each other to improve as well.
There is also a lot of support for the tennis team on the campus and in the community. It also has great programs for the majors that interest me - which are business and engineering.
You mention an unofficial visit. How did that go? And did you take an official visit as well?
I took an unofficial visit to Valparaiso at the end of June. On my unofficial visit I went an a tour of the campus and got to see their indoor and outdoor tennis facilities - both of which are very nice. I noticed that I felt very comfortable on the campus. Later in the summer, after the Midwest Open, I went to Valparaiso with my mom and we looked at the campus again.
I took an official visit in October. On this visit I got to meet the team and spend time with them - and also see what the dorms on campus are like. I also got the chance to spend time with other 2016 recruits. I was very impressed with the team locker room for the Valpo tennis players - and how welcoming the players on the team were. Coach Woodson took a lot of time to give my father and me a tour on my unofficial visit and was more than happy to answer any questions we had.
You mentioned the players. Did you get the chance to spend much time with them?
The players were all very welcoming, and I'm excited to be a part of the team with them. The team is all hard-workers who push each other and who are dedicated to the sport and to the program. I also liked how the team spends a lot of time together off the court.
Like I said before, I did get the chance to get to know another 2016 recruit - Brandon Ancona - during my official visit.
What about the coaching staff?
The coaching staff at Valparaiso played a large role in my decision. It's a very cohesive group of three coaches. Coach Woodson watched several of my matches during the recruiting process. He was very easy to talk to during the recruiting process and stayed involved and interested in how my tournaments went. He has seen enough of my game that I felt he will know how to help me improve once I get to college. I also met Coach Daugherty and Coach Trueblood on my official visit and they are both dedicated to helping the program retain its success.
Do you have any specific goals for your freshman year?
I want to continue working very hard so I can improve, continue to develop my game, and help the team. I want to play in matches and contribute to the team's success. I also hope to keep improving my doubles play - and Valparaiso is the perfect place for that.
Jeannie Lozowski (Port Saint Lucie, Fla.) to Nebraska
Five-star senior Jeannie Lozowski has made steady progress in her game and her ranking over the past few years, earning the first 5-Star rating of her career this past fall. Originally from New York, the 5'10" right-hander moved to Florida at age twelve, where she has performed well against the tough competition Florida has to offer. Her play caught the eye of several college coaches - like Scott Jacobson, Head Coach at Nebraska University. On her way to winning a title at the Girls 18 Designated in Miami this past August, Jacobson flew down to Florida to meet with Lozowski and offer her a scholarship. Two days later, Lozowski committed to become a Cornhusker.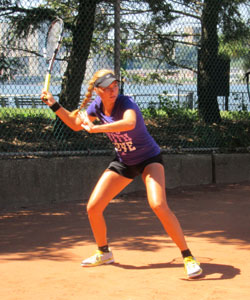 How did you go about approaching the recruiting process?
My college search started with a list of about thirty schools that I evaluated over many, many months. I prepared questions to carefully learn about the type of program they ran and spoke with the coaches, assistant coaches, and players that had insight to the team. I did research on the academic requirements and majors offered, school environment, facilities, weather and even the food. I made the first contact with some of the schools, and many others had contacted me first. I spoke with all of them and learned along the way, eventually narrowing down to a few that I continued to consider.
Congratulations on your commitment. What differentiated Nebraska from other schools?
The biggest factor was the coach, Scott Jacobson, who is entering his 25th season as head coach. I felt a connection with him far more than with anyone else - he is such an amazing person. Tennis is a sport where a person can have ups and downs - you can beat a person you were not expected to or lose to one you should have beaten. I wanted a coach whose approach would be supportive and encouraging and could work with me and the team in a positive way. I feel he leads his team with confidence, with a competitive drive and takes a genuine interest in his players.
Since verbally committing, I keep in constant contact with both Scott and Assistant Coach German Dalmagro. They check on how I am doing - considering me both in terms of tennis and how I am in general. I also wanted to pick a school with an overall stellar athletic program in a bigger conference. The bigger schools have more opportunities for athletes as well as the best facilities. Nebraska has the best tennis facility in the nation.
Was your visit an official or unofficial one? What most impressed you while you were in Lincoln?
I visited there on Labor Day weekend and went to the opening home football game. It was such an amazing experience from the first moment I arrived - and everyone welcomed the new recruits. It is truly the college experience I envisioned as my ideal choice. In the game, BYU won as time expired with a desperation pass, but the support of the Nebraska fans never wavered. It's no surprise their football stadium has sold out 343 consecutive home games. Nebraska is known as the school with the most loyal fanbase.
You obviously have high praise for Coach Jacobson. What about the rest of the coaching staff?
The entire coaching staff - including the head and assistant women's tennis coach as well as our nutritionist, strength coach, and life skills coach - were all so amazing and passionate about their jobs. It really made me feel as if I were part of something bigger than myself.
Our strength coach and nutritionist set aside clear individual plans for each athlete, and they were very organized - something I deeply appreciate. And our life skills advisor is really passionate about getting involved and helping those less fortunate, and she has set up many opportunities for student athletes to make a difference in the community.
What do you like about the team itself?
I wanted to find a team with a strong concept of unity and a supportive work ethic. At Nebraska, everyone pushes each other and trains hard - but then they still have fun and get along great off the court. The girls on the team were so welcoming on my official visit - and I could not be more happier with my decision.